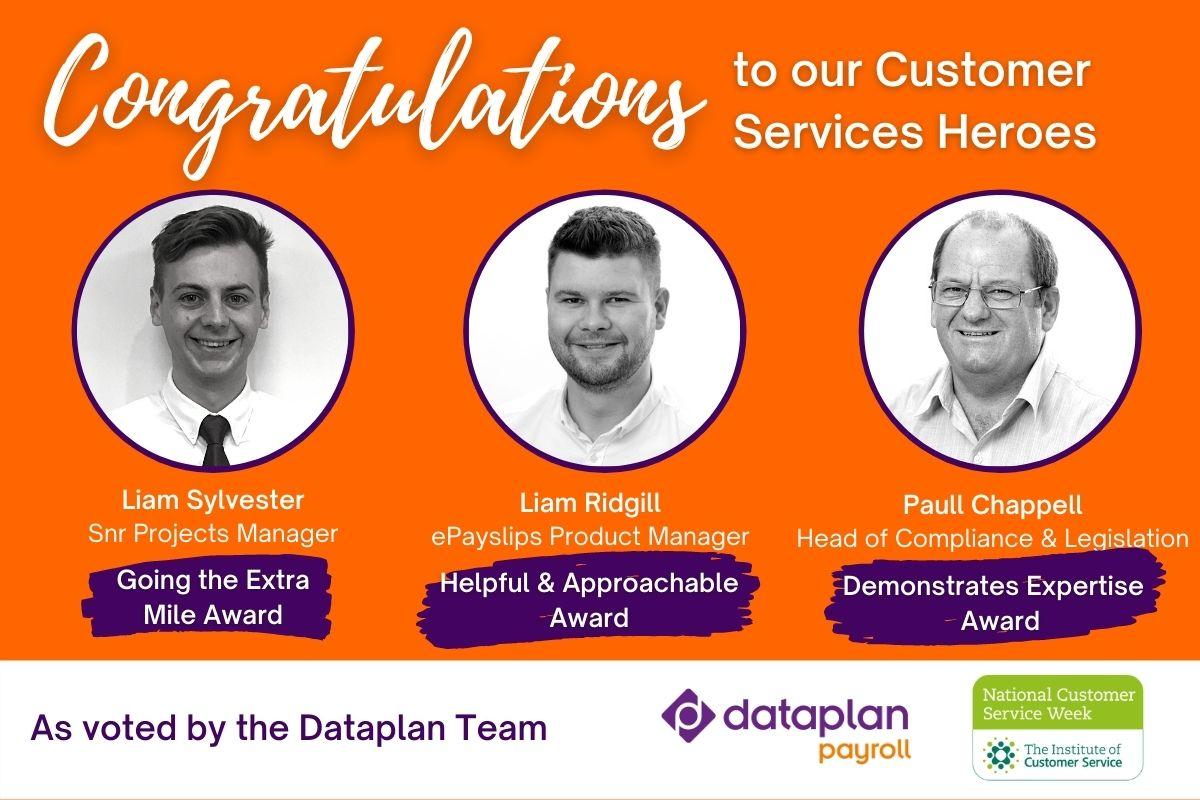 On the final day of National Customer Service Week 2021 the theme is 'giving your customer service heroes the recognition they deserve' and what better way to wrap up the week than announcing our Customer Service Hero Award winners.
Last year we introduced Dataplan's Customer Service Hero Awards, aimed at recognising individuals within our organisation who go above and beyond for their clients both externally and their colleagues internally.
The awards are the 'Going the Extra Mile Award', the 'Helpful and Approachable Award' and the 'Showing Expertise Award'.
The 'Going the Extra Mile Award' goes to Liam Sylvester
Liam Sylvester received several nominations from his colleagues for the 'going the extra mile' award. Based in our Projects Team as a Senior Project Manager, he is responsible for onboarding new clients and works closely with our internal teams to achieve seamless payroll implementation.
Liam was commended by his colleagues for his professionalism and can-do attitude, one colleague commented that he is "highly responsive and attentive to our customers regardless of how much other work he has on" whilst another shared that he always "puts in 110%."
This praise extends to clients who have given "fabulous feedback relating to Liam's customer service."
The 'Helpful and Approachable Award' goes to Liam Ridgill
Liam Ridgill, ePayslips Project Manager, was chosen for the 'helpful and approachable' award. Liam is known amongst his colleagues for his readiness to help even in areas that aren't a part of his every day job role. His colleagues describe him as "always happy to help" and "happy to get involved."
Liam is much appreciated by ePayslips clients with one colleague recently having a call with a client who "made a point of giving feedback on how helpful and friendly Liam is. She could not have sung higher praises of him, and even noted that they really do miss him when he is on annual leave or out of the office on meetings."
Whatever the query, Liam is always ready and able to help whether it is ePayslips related or even something like helping someone with their IT setup or servicing the staff coffee machine!
The 'Showing Expertise Award' goes to Paul Chappell
Paul Chappell, Head of Legislation and Compliance, is our final winner having been chosen for the 'showing expertise' award. Paul received an overwhelming amount of feedback and praise for his support and knowledge, particularly with the Coronavirus Job Retention Scheme (CJRS) and furlough claims.
His colleagues remarked that he is "always available" and described him as a "great role model". The extra work that Paul has put in to assist staff and process furlough claims for clients has not gone unnoticed, one staff member stated "he has had to deal with constant changing and developing information over the last 18 months and has always managed to keep us all up to date."
Whenever there is a question, from tax compliance and national insurance to IR35 or CJRS, Paul always has the answer and is happy to help.
Dataplan are one of the UK's leading providers of specialist payroll and associated services.
From payroll outsourcing and pension service management to ePayslips and gender pay gap reporting; we have a solution for you and your business.