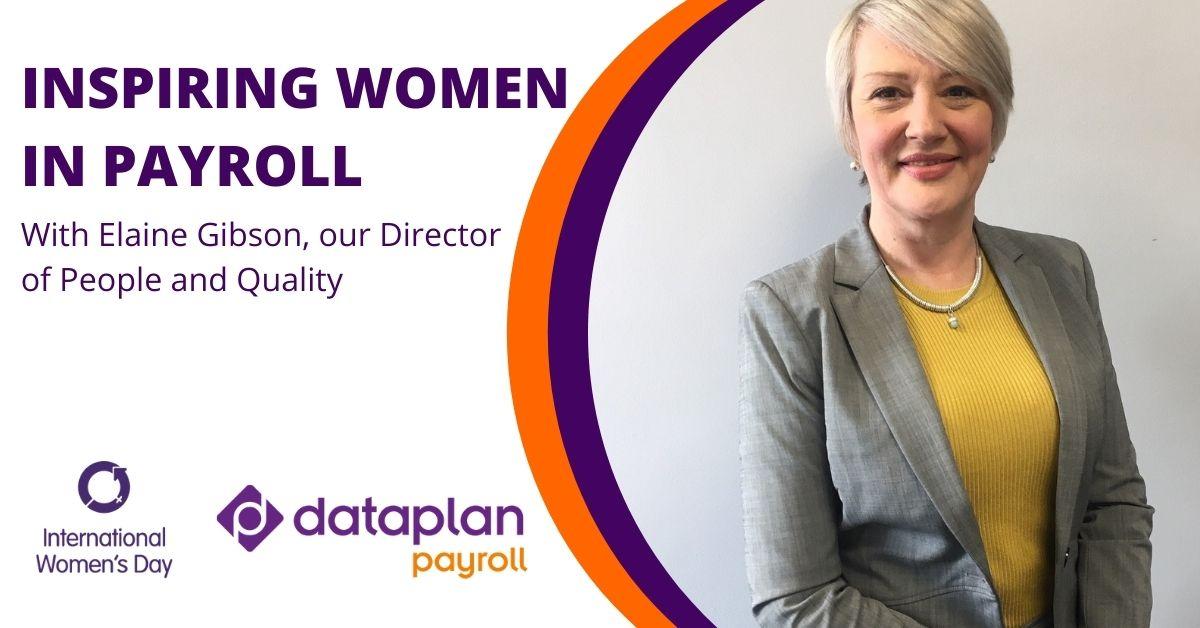 This year for International Women's Day at Dataplan we have decided to celebrate the women that inspire us. We are proud to work with some truly amazing and inspirational women, from our payroll heroes to our Directors.
One such example is our Director of People and Quality, Elaine Gibson. To mark International Women's Day 2021, and inspire young women in payroll and beyond we decided to sit down with Elaine to find out more about her career, and what advice she has for ambitious and aspiring minds.
Elaine fell into payroll by accident
Elaine began her career at a firm of accounts with the goal of completing her accountancy qualifications. After starting as a Trainee Accountant she fell into payroll by accident. Going from PAYE control for 10 clients to building a bureau of over 100 clients for the firm, Elaine commented that she liked working with numbers and her role gave her full control of the process. She said "I fell right into it, and I have never looked back."
From strength to strength
After finding her love for payroll, Elaine left the firm to join an employer who really valued her ambition and allowed her to complete her first nationally recognised payroll qualification. This quickly opened doors and allowed her to build her career in the payroll industry.
Recognising that the payroll industry is wide ranging with crossovers into HR, reward and pensions she grasped the opportunities that came her way, eventually becoming an expert in the specialist sector of Education.
Elaine began her university education as a mature student which allowed her to move from the hands on technical elements of payroll, to supporting Payroll Professionals in her role as Education Director at the Chartered Institute of Payroll Professionals. Elaine trained people in payroll skills, tutored at under and post graduate level becoming the programme leader for a number of courses are various universities before joining us at Dataplan.
Elaine commented that she doesn't see herself as academic, but rather "a person who has experienced a holistic career to date and can see things from different points of view." Whilst she has undertaken a formal route to learning and qualifications, supported by experience gathered over her career to date, she has seized some great opportunities in the real world which she believes is a "powerful mix" for forging her career.
Shaping success at Dataplan
Today, Elaine is a proud member of the Dataplan Payroll Board as our Director of People and Quality. This role allows her to shape the futures of our people, women and men, from our Payroll Professionals to our other in-house teams such as Development and Marketing.
We asked Elaine how she is helping to shape success for the women and men of Dataplan, to which she responded "I am able to share my experiences with internal managers to support their development." She is a firm believer that it is not all about formal qualifications and whilst she always encourages this, she believes that sharing real examples makes a big difference. She continued that "as I have experienced the challenges of strategic management for a good number of years, from my own experience I am able to help empower our women by sharing what has worked and not worked for me which is extremely satisfying."
Elaine's tips for career starters in the payroll industry
With her wealth of experience allowing Elaine to build knowledge covering all aspects of the payroll industry, and allowing her to build a satisfying and rewarding career we asked her to share her top tips for those aspiring to build a career in the payroll industry.
Stick to your ambitions and do not be discouraged, as you climb the ladder the more challenging and rewarding your career will become.

Think about where you are now, and if you would like to go further. If you would, how do you see yourself getting there? You can use this technique to target the opportunities and experience that you would like to seek out in your next steps.

Set yourself a personal plan with an ultimate goal that is supported by smaller goals to get you there, don't be afraid to make it challenging, as you get closer to your ultimate goal you will have undoubtedly achieved great things.

Elaine's mantra is "Challenge Change and Transformation." You are learning every day in both small and big ways, so grab as many opportunities as you can, you will know what feels right for you but don't be afraid to go for it.

Most of all, be yourself, build on that and create the best version of yourself as you develop in your career!
Dataplan are one of the UK's leading providers of specialist payroll and associated services.
From payroll outsourcing and pension service management to ePayslips and gender pay gap reporting; we have a solution for you and your business.