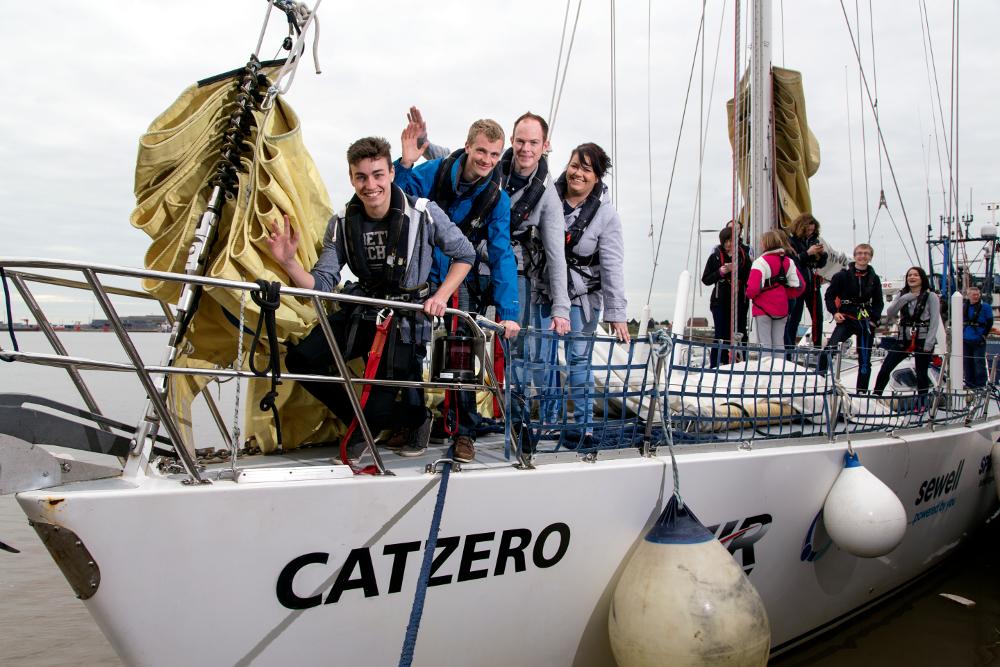 Four lucky professionals (Jack, Josh, Chris & Carly) were selected from Dataplan to team up with Forrester Boyd and adventure out into the North Sea to celebrate our new corporate relationship with Local Charity CatZero. CatZero is an award winning registered charity that reaches out to young people who struggle to find employment and have lost their way. CatZero provides them with tailored development programmes via challenge and support to help them achieve education or employment.
The Team boarded the 72ft vessel where we received a safety brief, life jacket and most importantly, a bacon roll (which later proved to be quite simply, a rookie mistake). Whilst looking glamourous in our newly presented life vests, we posed for photos.
No time wasted, we were off! After departing Grimsby Docks we spent the morning mastering life at sea, 'learning the ropes', quite literally too. In fact, one part of the boat is actually named the 'snake pit' due to the high volume of coloured ropes. But be aware, similar to snakes these can also become quite venomous if not tamed with the correct techniques, which we soon grasped. We were taught the 'man overboard' drill and even went on to perform our own at sea rescue, which saw lucky rock, paper, scissors winner Amy, being lowered overboard to assist in retrieving the fearless dummy.
The morning prepared us for what could only be described as, bliss. This was lunch followed by rays of sunshine whilst listening to 'Don't Rock the Boat' through the Yachts speakers. The occasional horrific dance move did make an appearance, unfortunately. It seemed all we were missing was a bottle of Moët. False pretences my friend, false pre-ten-ces.
Early Afternoon we were set a challenge, our challenge was to venture out as a team into the big bad Atlantic Ocean AKA the North Sea, around Spurn point and to a wind farm off the coast of East Yorkshire. To complete the challenge we needed to capture a photo of a sea lion (a tad more difficult than it sounds!). Carly was put in command of navigating the route for the 72ft beast, a few faces of doubt and uncertainty appeared as we headed in the opposite direction to the Wind farm. This was swiftly rectified and we were back on track.
Wind farm - check. Picture of Sea Lion – check. Life is fab. What we were yet to realise, the real challenge was getting back to land. With the wind picking up head on, the waves getting bigger, what seemed like a huge task suddenly became enormous. The Team really had to pull together working the ropes for manoeuvre's, tacking and raising the sales. Intense is certainly the word to use. Strong winds where causing the boat to tilt heavily on one side, to avoid us sliding overboard we all needed to clip on using our safety harnesses.
After an enjoyable and exhilarating day we arrived safely back at the port of Grimsby Docks. As happy as I was to be reunited with land, it was also quite a sad moment to be saying goodbye to CatZero and the Crew who provided us an experience we would never forget.