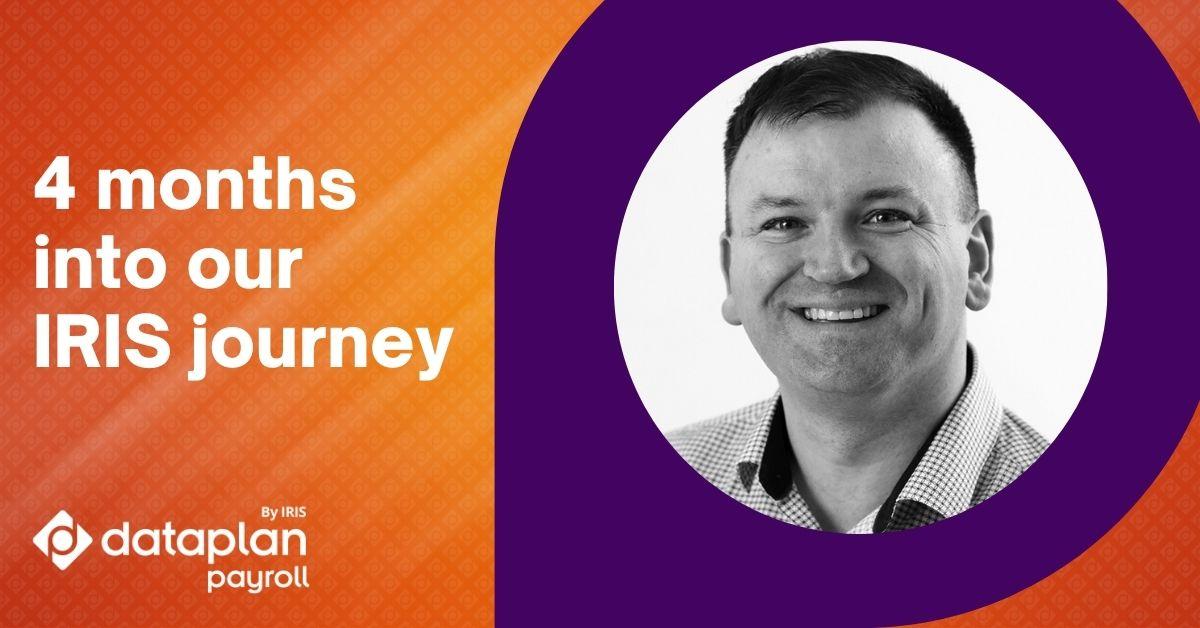 On 26 October 2021, Dataplan became part of the IRIS Software group as a significant acquisition into their managed services division. For Dataplan, it marked the start of the next stage of our business growth and our 55-year history.
At the time of the acquisition, David Lockie, Chief Operating Officer of IRIS Software Group, explained, "We are delighted to bring Dataplan on board and will continue to support its growth and invest in its market-leading people and products to benefit both existing and new customers."
Now all the initial excitement has died down, and we are four months into working with our new parent company, I wanted to reflect on the changes we have seen and the latest developments on the horizon.
New opportunities for our staff
Having a good culture fit has always been a priority for Dataplan. We were extremely impressed with the culture at IRIS, a commitment to diversity, inclusivity and also their investment in getting the very best out of their team. This very much mirrors our values and ethos of 'be brilliant'.
Being part of IRIS Group will also provide even more opportunities for our staff to develop their careers, both within Dataplan, Datacode and the wider IRIS Group.  
Our staff will also soon have access to the wider IRIS benefits package including access to private medical insurance for all employees and three 'give-back days' a year so staff can spend time doing charity, volunteer or community work that inspires them, to name just a few.
Becoming a centre of excellence
With many acquisitions, the new owner often looks for what assets it can take from its purchase, how costs can be stripped out, and savings made. Unfortunately, the casualties in this approach are usually the people as offices are closed down and departments merged.
With IRIS, however, the vision is to invest in Dataplan. They acknowledged the skills and expertise we have built within Dataplan and are on the path to invest in Grimsby as a centre of excellence for payroll, especially the more complex payrolls found in Education, hospitality and healthcare.
This is excellent news for our team and the town itself, which is often viewed as a place with little opportunity.
Sharing knowledge and best practice
One of the less obvious benefits I have realised since joining IRIS is that of being surrounded by people who 'get' payroll and software. There is an implicit understanding of our industry, what drives it and where it is going in the future. The focus on cloud technology and integration has been something Dataplan has built its systems around, and now we are part of an organisation with this at its very heart.
New sales opportunities on both sides
Dataplan were purchased to fit a gap in the IRIS portfolio for a managed payroll and HR service that can handle complex payrolls. Now we are part of the group, there will be many opportunities coming our way from current IRIS clients looking for a managed payroll service. And, vice versa, we have clients who would benefit from specific IRIS software products, such as the innovative MIS product for state schools and trusts. Now we can help our clients fulfil many more of their needs, even if we cannot directly supply that service through Dataplan.
Fast track new services and innovations
Dataplan has always been at the leading edge of technology and finding ways to streamline workflows. Our own software house, Datacode, has delivered many great solutions, including our ePayslips product, which IRIS is now looking at how it can be used across their other businesses, VERA our education platform and our HR contract management tool.
With the support from IRIS, however, we can bring new services to market and our clients even quicker. One great example, launching soon, is our Dataplan Faster Payments service, which will give clients the option of same-day payroll payments rather than the traditional three-day bacs process. Watch this space for more details of this new service.
New sales revenue opportunities
Other exciting new developments include the growth of our Education HR service. We are investing in expanding our HR advisory and Administration teams to support more of our education payroll clients with their HR needs.
In November 2021, IRIS acquired Every, a leading compliance and HR management solution provider in the education sector.  We are working closely with the Every team to integrate our two systems to offer managed payroll to their clients and provide additional HR services such as recruitment and performance management through their system to our clients. This is an example of two market-leading solutions working together to benefit their respective clients.
Another area that Dataplan spotted as a great opportunity back in 2019 is our Troncmaster service. This provides a tax-efficient way of processing tips for the hospitality sector that is not only compliant it also saves both the employee and employee NI. We already have a good presence in the market, but through investment from IRIS, we are looking to maximise the opportunity and deliver a fantastic employee experience. It's another one to watch this space on.
Dataplan sees a record month
Although many of these new initiatives are still to bear fruit, Dataplan has seen excellent sales performance over these first four months, with December seeing our best December in our history! A big thank you and well done to our marketing and business development teams for making this happen and our Implementation Teams, who are now bringing these new clients on board.
A few final thank you's
At the risk of sounding like an awards acceptance speech, I would like to thank everyone in Dataplan, whatever their role, for bearing with us during this time of change. Change is often an uncomfortable environment, and on top of working from home, it has put additional pressure on the teams. However, you have all shown amazing resilience and patience, and we are now seeing some of the benefits of being part of the IRIS Group come to fruition, trust me, it's going to be great!
Finally, a few name checks in the IRIS team; Stuart Stephen, Fran Williams and Jonny Friedman, thank you for your advice and support; it has been invaluable and very much appreciated
Looking forward to 2022 working together to make it happen.
Dataplan are one of the UK's leading providers of specialist payroll and associated services.
From payroll outsourcing and pension service management to ePayslips and gender pay gap reporting; we have a solution for you and your business.