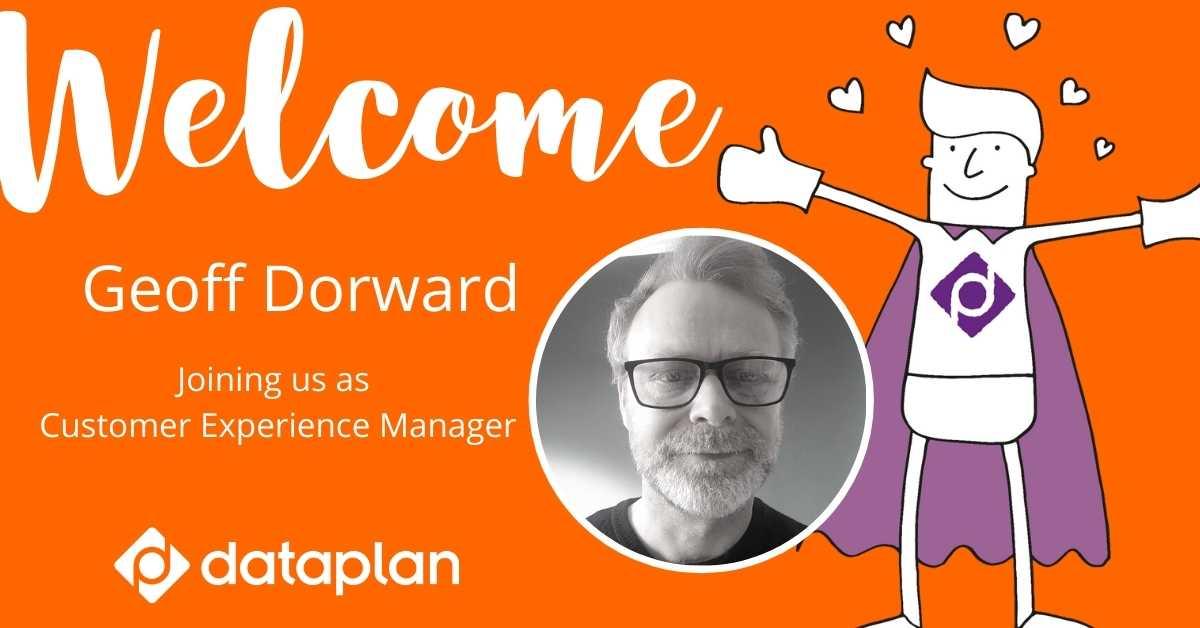 It is no secret that at Dataplan we have been busy over the last year. From adapting our operation to home working, to helping our clients navigate the fast changing legislation surrounding the Coronavirus Act and the process of furlough; it has been a very big year for us.
With Dataplan getting busier than ever, we have been recruiting payroll heroes and senior professionals to our team throughout the pandemic, and the latest to join us if Geoff Dorward as Customer Experience Manager.
A life-long career in payroll
Geoff has spent his entire working life in payroll in some fashion or another, starting as a Payroll Professional for the North-Eastern Co-operative branches at the age of 18. Like many people in the payroll profession will say, Geoff confesses that he "fell into it by accident", but soon found himself enjoying it and having chosen a profession for life eventually working his way up to become a Manager there.
At the Co-operative, Geoff was responsible for a big weekly payroll which encompassed all of their stores in the North East of England. From the Co-operative, Geoff moved on in the late 90's from in-house payroll to part of an outsourced payroll service at payroll outsourcing company, Cintra.
At Cintra Geoff moved out of the frontline payroll operation and into the implementation side of things and onboarding new clients. After 10 years working in client on boarding, he moved into a specific account management role.  
Using his payroll experience in Account Management
Geoff described the Customer Experiences Manager role at Cintra as focussing on "helping customers to get the best out of our systems and services, and giving the best experience to the client."
Having a long-standing career in payroll, with frontline payroll processing experience helped Geoff to understand the customer's needs from a different perspective to a simple Account Manager. He was able to draw on his knowledge and work with the customer to get the best out of the people and processes, and resolve issues quickly and make processes better.
Finally, Cintra expanded their offering into HR; a natural fit alongside a payroll processing service, and Geoff learned about "how it fits in with payroll and bringing it all together."
Geoff joins Dataplan as Customer Experience Manager
Before joining Dataplan, Geoff had started to think about "what life was life outside of Cintra" having been there a long time. He explained that he had heard about Dataplan, and that we had similar ideals to previous companies that he had worked for.
Geoff explained that the way Dataplan "focuses on the client, looking to always wow and doing everything that it takes" is what really appealed to him.
In line with our workforce strategy of maximising on people's experiences and skills, in addition to the traditional account management role, Geoff has also been involved in transitioning some of our new clients from our on-boarding team to their ongoing Payroll Processing team.
Goeff is also working closely with our Client Services Director, Adele, and the Customer Service Team with the aim of "finding out more about our customers, what they want, what their experience is at the minute and to try and bring that all together to make the products and services even better."
Starting a new role during a global pandemic
Geoff has joined Dataplan at a testing time for businesses everywhere, not just payroll and pensions service providers who have been busier than ever. He commented "it is very hard during the pandemic and I am going to be home-based, but all of my dealings so far let me know I have made the right choice."
We asked Geoff what his plans were when lockdown measures ease, and he was very eager to get a visit in to Dataplan's home base in Grimsby. He said "I am really looking forward to coming down to Grimsby, it is a lovely place and I am dying to meet everyone face-to-face!"
Dataplan are one of the UK's leading providers of specialist payroll and associated services.
From payroll outsourcing and pension service management to ePayslips and gender pay gap reporting; we have a solution for you and your business.