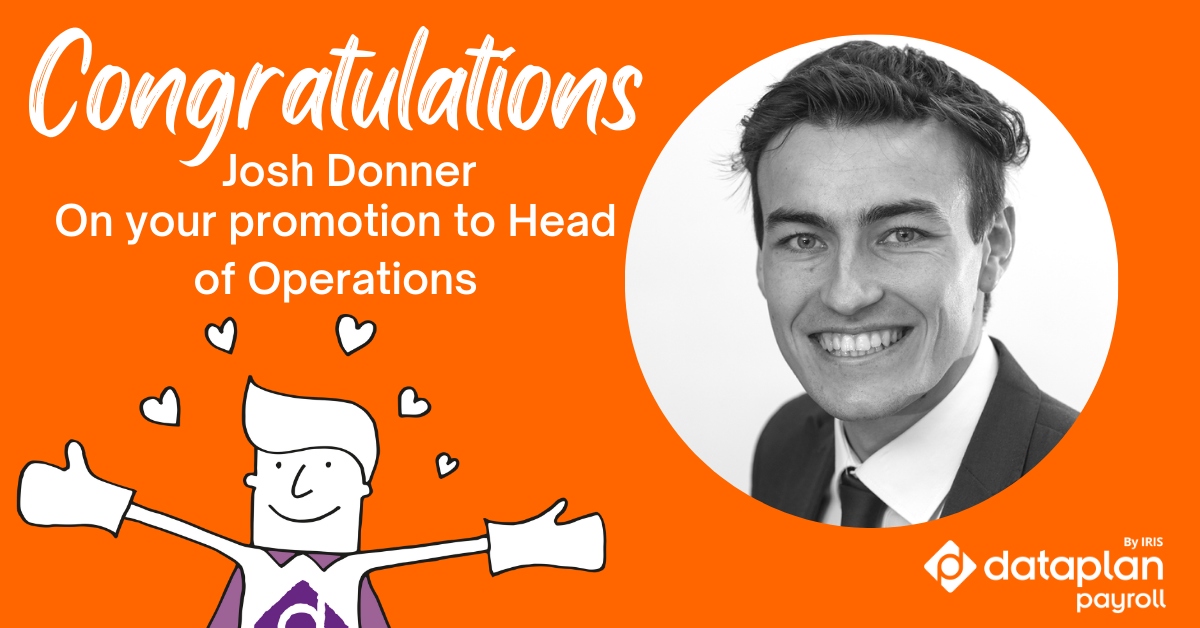 After joining IRIS Software Group in October 2021, Dataplan is pleased to share many positive benefits. In a recent post, our Operations Director Stewart Waddell explained how being part of the IRIS family created new opportunities for our people and our clients.
Now, we are proud to share the latest in a string of internal promotions off the back of this. Previously Head of Projects, Josh Donner will now be supporting Stewart Waddell as Head of Operations.
Choosing a career in payroll
Prior to Josh starting his employment at Dataplan, he had initially planned to continue studying, but following a conversation with our HR Manager Lesley about the career possibilities in payroll, he chose to join Dataplan and see what opportunities there were for him.
Josh commented, "it didn't even cross my mind at that point that payroll was a career, but the development opportunities were explained to me, and I started to see what it was all about."
Josh first took the position of Payroll Administrator, where he learned the ins and outs of payroll, which is when he realised "there is a lot more to payroll than just keying in numbers and paying people." Once Josh started to get to grips with the challenges and complexities, he realised that payroll was quickly becoming not just a simple job but a long-term career he could commit to.
Josh was pleasantly surprised by payroll as a profession
Josh did not regret his decision. Over more than a decade at Dataplan, he has progressed from a Payroll Administrator to a Professional, Senior Professional, Project Manager, Senior Project Manager and then finally, his previous role of Head of Projects.
In addition to receiving several promotions, he has made use of several development opportunities throughout his time, including his CIPP Payroll Technician Certificate, AAT, CIPP Foundation Degree in Payroll Management, and BA (Hons) in Applied Business and Management (CIPP Accredited). Combined with his experience, it would be fair to say that Josh is a true expert in the payroll industry.
Stepping into a new role
With Dataplan joining IRIS, our Operations Director Stewart moved into a new role and taking up the   responsibilities of our former CEO and now leads Dataplan under IRIS. However, doing this left some of Stewart's previous responsibilities needing to be fulfilled, and the position of Head of Operations was created.
Josh was instantly a consideration for the role; having been at Dataplan for over ten years, he knew the business, systems and processes inside and out and had left a fantastic impression with his clients and colleagues alike.
In his previous role as Head of Projects, Josh began taking on some of the responsibilities that Stewart could no longer focus on, and from there.
Speaking about what his role will entail, Josh explained that he is looking forward to "introducing efficiencies and starting to look at automating simpler tasks and processes that do not need an individual to oversee them." Having spent years processing payrolls and then moving into the Projects Team, Josh has a wealth of experience in implementing payrolls and handling payrolls that he is looking forward to using.
Josh will also manage a number of tasks from Stewart including ISO management, looking at systems and processes, payroll importing project to name a few, the list of ever growing.
The future of payroll
As with any industry, the world of payroll is subject to change. Some of this is due to innovation and technological advancement; some is due to the need to adapt to circumstances such as new legislation or the Coronavirus pandemic.
Josh thinks the future of the payroll industry is bright, and explained, "in the future, I think payroll will become a more autonomous industry where more payrolls are managed by AI and technology, with the human aspect of payroll remaining important but focusing on the technical point of payrolls such as advising on legislation and key payroll factors rather than data entry."
Dataplan are one of the UK's leading providers of specialist payroll and associated services.
From payroll outsourcing and pension service management to ePayslips and gender pay gap reporting; we have a solution for you and your business.