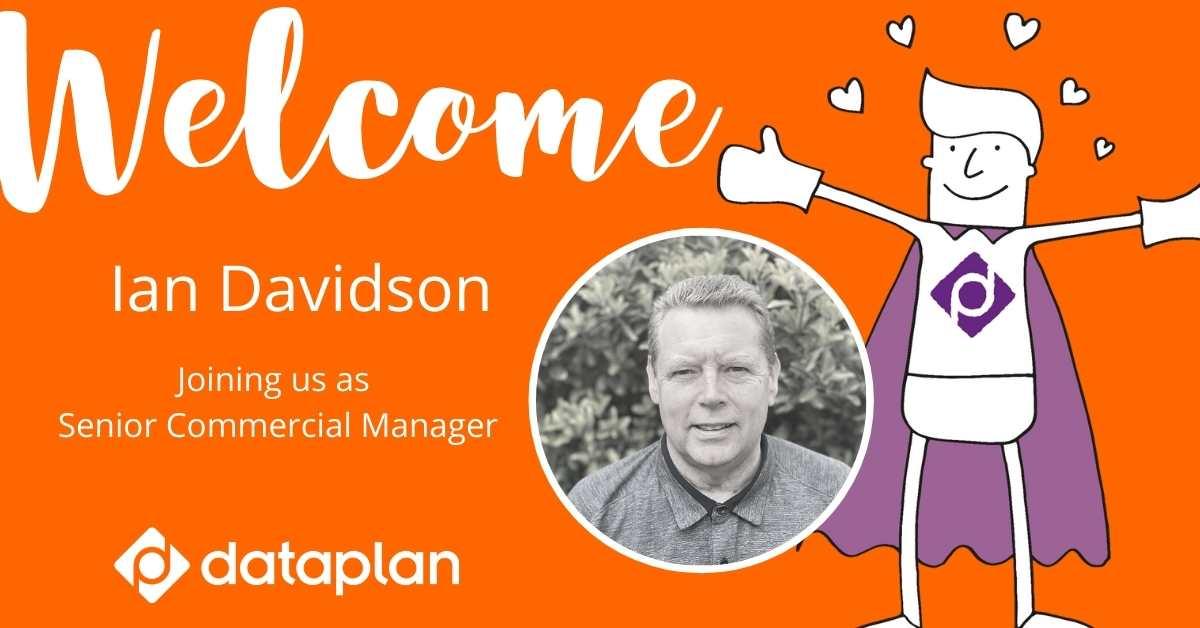 It is no secret that the Coronavirus pandemic has increased the demand for outsourced business functions, and because of this the payroll industry is booming. At Dataplan we have seen an increased demand for the peace of mind and security that outsourced payroll and pension management can offer.
Due to this, we have been busier than ever and this has allowed us to grow our team. Not only have we expanded our team of Payroll Professionals with options for all levels and career switchers to join our team of heroes, but we have also been lucky to bring a number of senior specialists to our team.
Ian Davidson joins us as Senior Commercial Manager, and with him brings a wealth of experience in payroll, technology, and software.
A background in Information Technology
Ian started his career in Information Technology, software and hardware predominantly. Ian worked for a Dutch company called Tulip Computers, which he brought to the UK market in 1987 and described as an "early highlight of my career."
From there Ian worked with a number of household names such as Olivetti and Canon, later he moved to a company called Visual Business Tools with the sister company Visual HR, which is where he began working with HR software. The company also had a payroll bureau, and so Ian had his introduction to the payroll industry.
Leaving Visual HR, Ian moved on to Trace Payroll Services which was exclusively a payroll bureau. His initial role was Sales and Marketing Director, before becoming Managing Director for his last four years there. For the last 9 months Ian has been working as an Independent Consultant and as he says "whilst determining my next career move and looking for the right organisation that would be a good fit".
Finding a matching philosophy at Dataplan
Whilst there are many payroll businesses out there that Ian could have looked at, he explained that he chose Dataplan because of the philosophies which match up with his own ideals. Ideals that Ian sees as crucial to providing a top-notch outsourced payroll and pension service.
Describing what attracted him to Dataplan, Ian explained "Dataplan are UK centric, everything that they do is in the UK, which is not the case with some bigger payroll outsourcing companies who tend to use offshoring." He also highlighted our philosophy based on personal service, "you're not a number in a help desk environment" and "the use of technology and the way in which it is used to wrap around customer systems rather than forcing customers to use our way of doing things."
"Dataplan believe it is important to preserve the investment that customers have made in their other systems, which is why they use technology and their internal IT Development resource to be flexible in their approach. This is a refreshing approach and something I whole-heartedly agree with."
Ian Davidson joins us as Senior Commercial Manager
Ian's role at Dataplan is Senior Commercial Manager. He will be focussing on bringing on board new clients in line with our philosophy of only using experienced payroll professionals, rather than traditional sales people.
As Ian explained, "I come at it from a consultative approach rather than a sales approach. People appreciate being able to talk with someone who is an experienced payroll professional and not a sales person needing to hit a sales target."
With inside knowledge of technology, software, hardware, and payroll; Ian sees technology as "a crucial part of the payroll landscape moving forward" which is something that Dataplan is already engaged with, using technology to take away the heavy lifting for our clients.
Dataplan are one of the UK's leading providers of specialist payroll and associated services.
From payroll outsourcing and pension service management to ePayslips and gender pay gap reporting; we have a solution for you and your business.