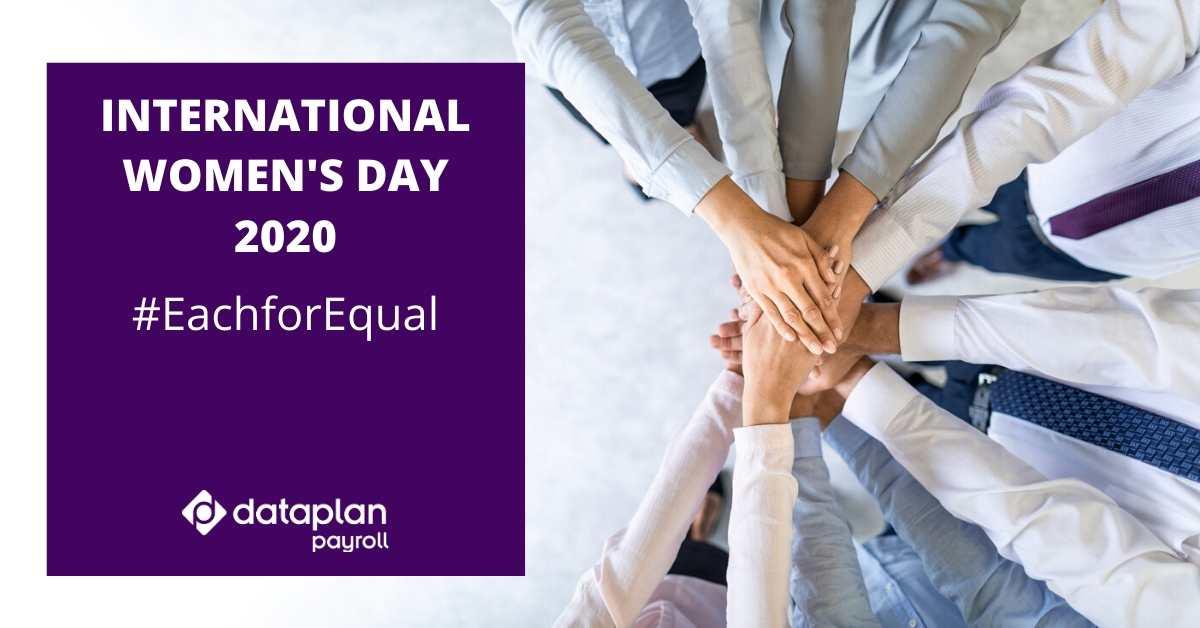 The campaign theme for International Women's Day 2020 on the 8th March is #EachforEqual and here at Dataplan this is something that we believe in passionately.
What does each for equal mean? We are all responsible for our own actions, thoughts and words but collectively they can help us to create a gender equal world. By fighting bias and stereotypes, celebrating the achievements of women, and challenging perceptions we can create that world.
Dataplan Initiatives
Here at Dataplan we have introduced several initiatives to create a gender diverse working environment that provides opportunities for both men and women to create a career that they are proud of, and do so around their personal lives.
Gender Split at Dataplan
We are proud to say that the gender split at board level is 50:50, and it is even better within our Senior Management Team where the split is 61:39. The amazing women who make up those teams are:
Director of Client Services
Director of People & Quality
Head of HR
Head of Corporate
Deputy Head of Corporate
Head of Corporate Pensions
Head of Public Sector Pensions
Deputy Head of Public Sector Pensions
Head of Education
Deputy Head of Education
Head of Marketing & Communication
Flexipay Product Manager
VERA Product Manager 
Providing Opportunities for Women
We pride ourselves on providing opportunities for all our staff in a non-biased way which has allowed us to reach the gender split that we currently have amongst our Senior Managers and at Board level.
One of the measures that we have taken that allows us to ensure all of our staff reach their full potential is our ongoing commitment to training and coaching. Throughout their career at Dataplan staff have support with learning our systems, technical knowledge, and soft skills.
At Dataplan we believe in encouraging personal and professional development for our people. For those who wish to undertake further learning to support career progression, we fully fund and support. We identify individual training and development needs via our Appraisal process and Career Development discussions and monitored via our training needs analysis process.
In addition to all of this we provide each of our staff members with a personal development budget and time away from the office as they need it for training courses, learning materials and any other development that will aid them in their role and future progression.
Flexible Working for All
In addition to providing opportunities to excel, we believe that all members of our staff should have access to our flexible working schemes. We reject the stereotype that women are the ones who stay at home to care for their family members whilst men go to work, which is why we emphasise these policies to all of our people.
We operate a flexible working system. This allows our people to structure their time at work around their home life whether they need to arrange school drop offs, spend time with family or simply prefer to start work a little earlier or later. Many of our staff take up this opportunity allowing them to flex their work hours around their schedule.
We also have an additional holiday purchase scheme which allows staff members to purchase up to 5 additional days of holiday through salary sacrifice over a 12 month period. This has been particularly handy in the past for staff who have needed to purchase additional holiday to cover emergencies with childcare.
In addition to the holiday entitlement we provide a day's holiday for Birthdays and a Director Day at Christmas, which helps to fill that gap between Christmas and New Year.
Part time working is something that we allows try to allow our staff members access to if their role allows it. We have several members of staff who work part-time, and even people who only work during term time to fit around their family.
A Word from our Director of People & Quality
"We are a diverse organisation employing all ages, from those straight out of college to the more experienced and mature individuals. We strive to employ the best people fit for Dataplan and are proud to support gender equality, whilst ensuring we empower the women on our workforce."
Elaine Gibson, Director of People & Quality
The Future
Whilst we are very proud of what we have achieved so far, we believe it is important not to become complacent and think that our work is done. #EachforEqual should be something that stays in the forefront of our minds and so we will continue to strive for an equal working environment for all free from stereotypes and assumptions.
We should challenge our thoughts, words, and actions every day. We have to consider the world that we are creating year round, not just on Women's Day, if we really want to make a difference.
Dataplan are one of the UK's leading providers of specialist payroll and associated services.
From payroll outsourcing and pension service management to ePayslips and gender pay gap reporting; we have a solution for you and your business.