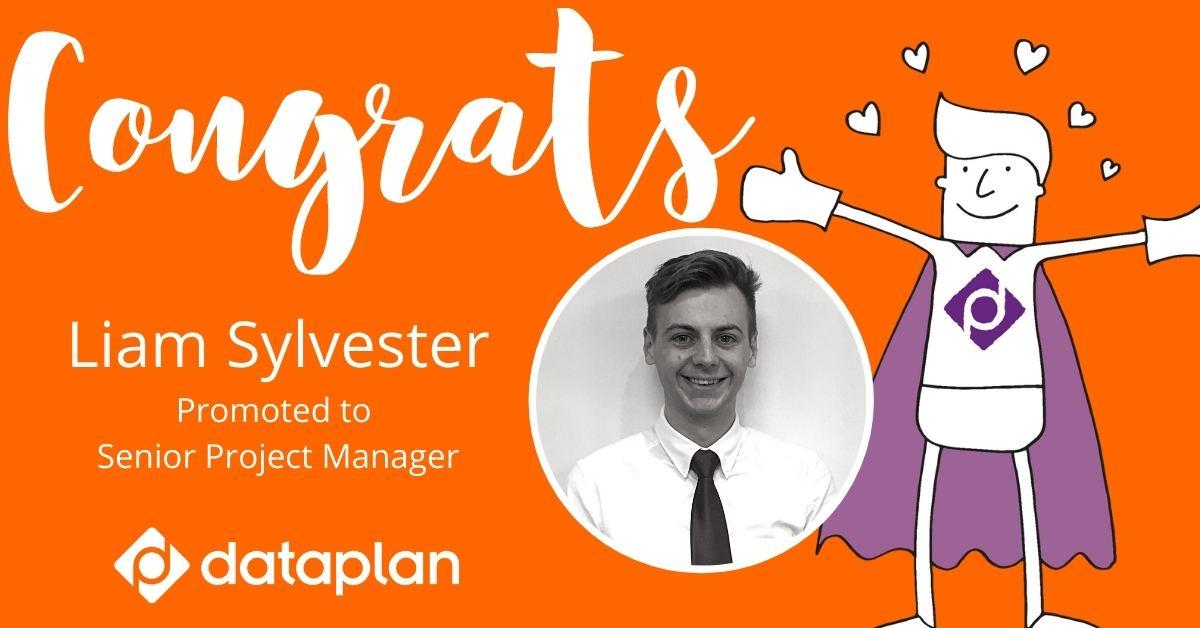 At Dataplan we believe in investing in our people to grow our own experts and payroll heroes. This is the goal behind our comprehensive training structure, and programmes like Dataplan Bootcamp as we discussed in our recent blog post "Dataplan bootcamp onboarding programme is a success, even in lockdown."
One of the most recent success stories is that of Liam Sylvester, who has been promoted to Senior Project Manager. To celebrate Liam's much deserved promotion, we decided to sit down with him and learn more about what brought him to Dataplan and his career to date.
Starting out in Hospitality

Liam started his career in the Hospitality industry, working there for 4 years whilst completing his degree in Business and Accounting. His aim was to join an Accountancy Practice following his graduation and like many of us say he hadn't really considered a career in payroll.
By chance Liam saw that Dataplan were recruiting for Payroll Professionals and he made the decision to apply. He said "after having a chat with Richard Rowell, the CEO, about the direction of Dataplan I felt it was a great opportunity that I couldn't pass up on."
Liam joined Dataplan in 2017
After his discussions with Richard, Liam joined Dataplan in August of 2017 as a Payroll Professional working within our Education team. After a year of training and getting to grips with the complexities of the Education sector, he was allocated payrolls to manage which included some of our larger Multi-Academy Trust clients.
After two and a half years in this role, an opportunity arose to move into our Projects Team managing implementations and on-boarding new clients. Liam applied and was delighted to be appointed as a Project Manager.
Growing our own talent with training opportunities
During his time at Dataplan Liam has seen first-hand the benefits of our commitment to growing our own in-house talent. He completed his CIPP Payroll Technician Certificate during his second year, helping him to advance to handling some of our larger client payrolls, and eventually move into our implementation team.
Regarding the qualification, Liam commented "It's a great course for anyone wishing to start a career in payroll or further their knowledge around Statutory Payments, Taxation and Compliance, and was fundamental to my development in the world of Payroll."
Promotion to Senior Project Manager
Fast forward to the current day, and Liam is once again taking the next step in his career at Dataplan. As our newly appointed Senior Project Manager his role will be to support the Head of Projects by managing his own team of Project Managers.
Liam will be ensuring that the quality framework and Quality Management System that we work within will be upheld to the highest standard during the on-boarding of our new payroll clients.
Looking to the future
In his short time at Dataplan, Liam has already experienced many career highlights. His hard work and dedication has seen him gain a qualification, achieve two promotions and move into a new department. We are sure he will bring this success to his role as Senior Projects Manager.
Liam commented "Dataplan continues to grow and with that the Projects Team continues to expand. I am looking forward to being part of that growth!"
Dataplan are one of the UK's leading providers of specialist payroll and associated services.
From payroll outsourcing and pension service management to ePayslips and gender pay gap reporting; we have a solution for you and your business.