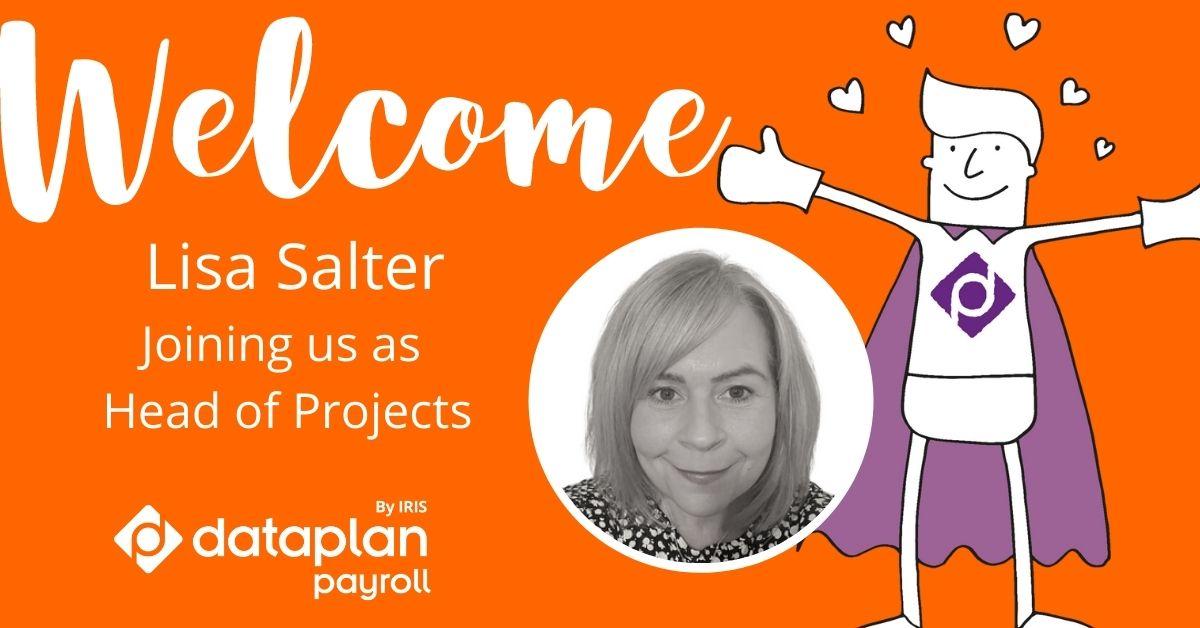 We love welcoming new team members to Dataplan. However, it is even better when it is the return of a familiar face, which is why we are so delighted to welcome Lisa Salter into the pivotal role as Head of Projects.
Lisa previously worked in our Projects Team before moving to head up the UK payroll division of a multinational software company in 2016.
Lisa was sorely missed, but we have kept in touch, so when we knew that our Head of Projects role was coming available due to an internal promotion, Lisa was our 'go-to person' to fill the vacancy.
We caught up with Lisa to talk about her career to date and what the future holds for her as Dataplan's new Head of Projects.
A move from accounts to payroll
Lisa explained how she first entered the payroll profession. "I got into payroll by accident, as most people seem to do! I worked for a group of nursing homes in Accounts and was asked to cover payroll for someone on maternity leave. They didn't return from maternity leave, so payroll naturally became my job from then on.
The role was very varied as it was a large group, so there were about 60 different payrolls at the time. Unfortunately, I was made redundant from that role but quickly got a Payroll Manager's job at Spencer Engineering, and from there, I moved to Dataplan in 2009."
When Lisa joined Dataplan, the team was still relatively small; as Lisa commented, "I was Dataplan employee number 13." Lisa worked as a Senior Project Manager for Dataplan for seven years, working with new clients, onboarding them into Dataplan.
In 2016, we said a sad farewell to Lisa as she moved back to an in-house payroll role with GlobalData Plc, a leading provider of data, analytics and industry insights. GlobalData, as their name suggests, is a worldwide business and Lisa headed up their UK payroll division.
Lisa explained, "Although I'm the UK Payroll Manager, I also manage payrolls for other countries, including Australia and the USA. So I was acting as both an in-house resource and the client, working with outsourced providers for the international payrolls.
What drew me to the job at GlobalData was the opportunity to set up a team from scratch. When I joined, the team was based in London, but with a re-location to Hull, the whole department needed to be recruited, and this was the challenge I relished, not only bringing onboard a new team but also setting up all the processes and systems.
In-house is very different to working in a bureau environment. As an in-house team, you are working more closely with finance and the Management team who need figures for journals and reports.
With lots of changes happening at GlobalData, the opportunities moving forward were more in finance than payroll, so when the chance at Dataplan came up, the timing was perfect for me to take on a fresh payroll challenge."
Lisa's new role is stepping in as Head of Projects, taking over from Josh Donner, promoted to Head of Operations. Lisa talked about what she liked about the position.
"I like dealing with clients, finding out what they want and need from their payroll and, at the end of the day, having a happy client!
My time at GlobalData has given me great insight from the client's perspective. I have a better understanding of what companies need to help their finance teams. It also gave me the experience of setting up a new team, integrating a new HR system and changing payroll systems over. I have had one project after another whilst at GlobalData, but that has now come to an end, and I realised the projects are 'my thing'. I like to see something from beginning to end, so the Projects Team at Dataplan, who are responsible for the onboarding and set up of new clients, is an ideal fit for my skill set."
Stewart Waddell, Dataplan's Operation's Director, added,
"I have worked with Lisa for many years and always valued her approach and experience. I am delighted she has decided to come back to Dataplan at a time when the business is set for growth and exciting times ahead as part of IRIS Software.
Lisa's experience both client-side and working as an outsourced provider is invaluable in continuing to delight and 'wow' our clients. Lisa and her team are one of the first people our new clients have exposure to and set the tone and expectations of our clients."
Dataplan are one of the UK's leading providers of specialist payroll and associated services.
From payroll outsourcing and pension service management to ePayslips and gender pay gap reporting; we have a solution for you and your business.