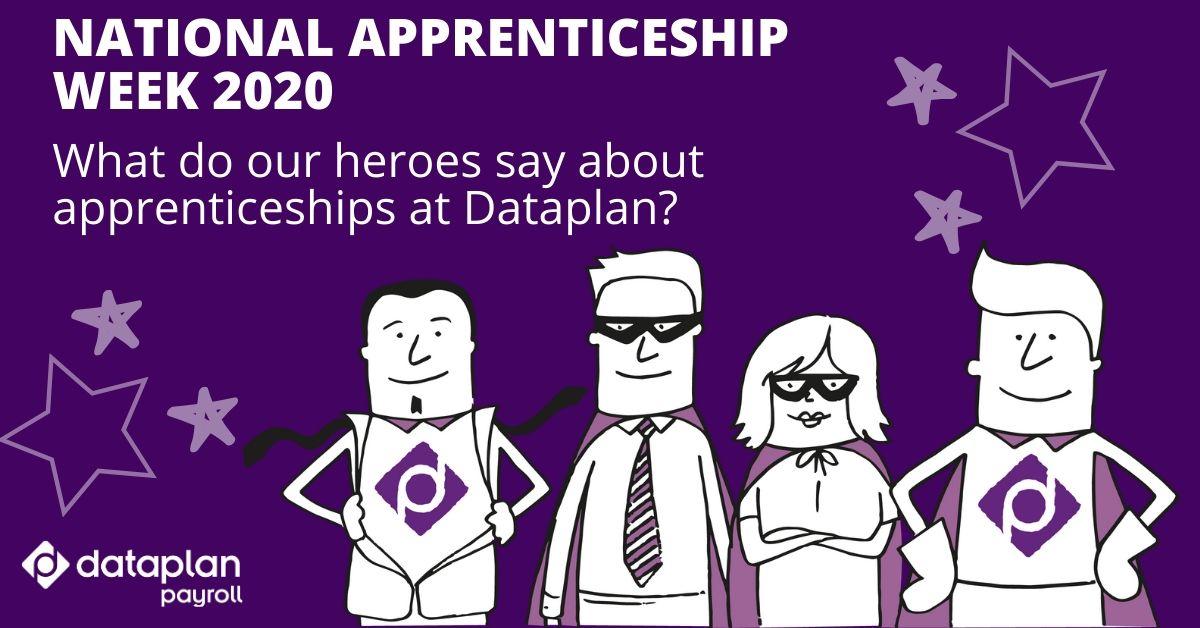 It's National Apprenticeship Week 2020, so we've been speaking to our Apprentice Heroes past and present to find out what they think people should know about apprenticeships.
National Apprenticeship Week is an annual celebration of apprenticeships highlighting the impact of apprenticeship programs on the individuals who undertake them, employers who train apprentices and the whole economy. Here at Dataplan we are big believers in providing our people with opportunities to learn and develop, so we recognise that there is not one straight path people take to starting their career.
Over the years we have had a number of successful apprentices who have gone on to build careers here at Dataplan. In honour of NAW we decided to sit down with them and find out what made them choose an apprenticeship in the first place, and what about an apprenticeship they think provided them with a successful start in their career.
Prudence saw an apprenticeship as an alternative to A levels
Pruedence Grainger's story is one of success. Having completed her Level 3 Business Admin Apprenticeship in 2018 at the age of just 16 she has gone on to become an integral part of the Payroll Administration team at Dataplan.
When we asked Pruedence what attracted her to an apprenticeship she explained that she "didn't like the idea of being in education where you are sat with a teacher" and doing an apprenticeship allows you to "adapt better because you're doing something every single day."
We asked Pruedence what in particular made her want to stay with Dataplan following her apprenticeship and she answered "everyone here is just so nice. Everyone gets along. When I started I was 16 so it was a massive change going into working with adults as opposed to being in a classroom but everybody was really welcoming and nice."
Laura used her apprenticeship as a way to kick start her career
Another apprenticeship success story is Laura Beckett's. Laura also completed a Level 3 Payroll Apprenticeship back in August 2015 and has since gone on to become a VERA Project Manager at Dataplan. Laura explained "I'd been to college and done my A Levels but I didn't want to university. I'd had enough of sitting in a classroom and listening to a teacher…I really wanted to do on the job training rather than classroom learning."
Laura's apprenticeship didn't follow the typical route in payroll that you'd usually expect to take as she was able to spend a lot of time with our projects team away from the admin work which allowed her to gain a unique perspective on the way payroll works.
Since finishing her apprenticeship Laura has seen quick progression starting out as a Payroll Professional then moving to become a Project Manager and today a VERA Project Manager. When we asked her what she loved about working at Dataplan she said "I think the culture is really good…everyone gets on really well, and there is always someone to speak to."
Laura's advice for anyone on the fence about whether to go forward with an apprenticeship was "you've always got that extra qualification under your belt even if you do decide it's not for you, you've got that years' worth of work based experience and you're going to get a qualification out of it." Laura was such a big advocate of apprenticeships that she even recruited in another successful apprentice; Molly Chester.
Molly and Laura had been working part-time jobs together at Matalan, and when Laura left to start her apprenticeship she passed on Molly's CV. Molly went on to start her Level 3 Payroll Apprenticeship in the November.
Molly enjoyed learning about working life
Unlike Laura, Molly had originally been hesitant about apprenticeships. She said "the thing is when I was in college and there were people who went off and did apprenticeships…I would think why are they going and doing an apprenticeship when they could stay at college, go to university and then get the job they want." When we asked Molly what had changed she said "Now having done an apprenticeship I know that you can go down those paths with an apprenticeship as well…you can do a degree or different qualifications through your job and progress as you would otherwise or even further."
Like most young students who enter the world of full time work for the first time, it was a bit of a shock to the system for Molly. She said "at first I wasn't really sure what I was getting myself into. But working full time and getting a qualification, I really enjoyed that because I was getting to know how working life is and getting my qualification."
We currently have several employees who have just got started Level 3 Apprenticeships in Payroll, so we decided to catch up with them and see how they were doing.
Meet our newest apprentices
Jordan Brader started his apprenticeship in October 2019, his Mum had been informed about the role through a family friend working at Dataplan and he knew straight away that he had to apply. Jordan said "I always wanted to go down the finance route and my view is that university is very good for things like being a doctor because you have to have that very specific training, but for me when I looked at it in terms of finance I didn't see university as something you had to do as you could get in through an apprenticeship."
We asked Jordan what in particular he was enjoying about his apprenticeship so far and he answered without hesitation "I like doing maths, I like solving problems and things like that so when there's a chance to do something such as manually calculating people's pay or other figures I really enjoy doing it and trying to figure out how it works."
One of the differences of an apprenticeship is the fact that apprentices are learning on the job and so they have to balance their work and learning carefully. We caught up with Jade O'Brien who is also undertaking a Level 3 Payroll apprenticeship but previously successfully completed a Level 2 Business Administration apprenticeship at another company.
On how she manages Jade said "Its fine because they give you time every week to do it – 2 hours. All your lessons that you do are online, a bit like Skype, which you are given time for during working hours as well." When we asked her about the support she receives from her Dataplan colleagues she said "we have our mentor Charlotte Baker who manages all of us" and "my team is really nice, you can ask them anything at any time and they don't mind."
Speaking with our apprentice heroes of past and present, it is clear to see that there is not only one pathway into a career or even an apprenticeship. They can be a great stepping stone for some people into the career they want, and to find the best apprenticeships you should look at the employer you'll be working with to ensure you'll be happy with the culture and the qualification. If you're thinking about an apprenticeship, try visiting the national apprenticeship website to search vacancies.