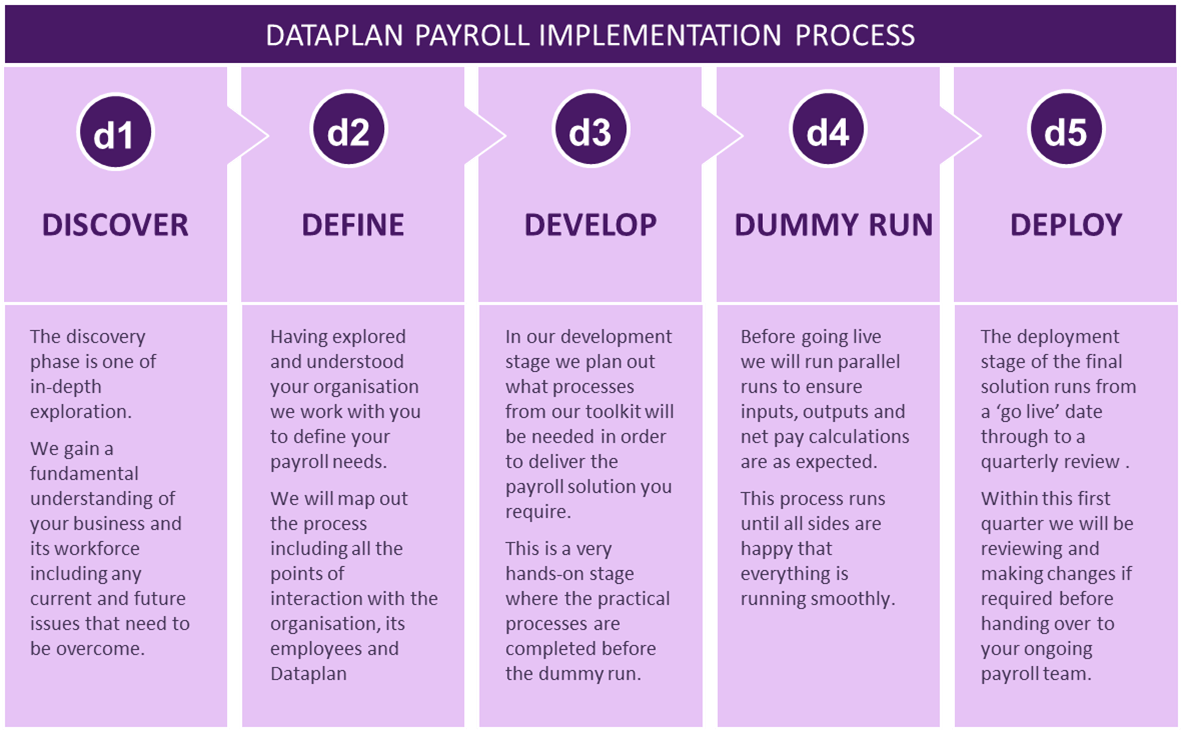 The handover of your payroll to a payroll provider, either from your own business or another outsourcing bureau, must be seamless and hassle-free.
Mistakes or delays in payroll can be catastrophic for a business, so here at Dataplan we have developed a robust and thorough payroll implementation process which ensures that everything runs smoothly.
Our dedicated Implementation Team work to a phased system that has been developed to understand your payroll, business and systems; define your payroll needs and design the processes to deliver to these needs; run the systems in parallel to make sure everything is working well at both sides before taking over the payroll.
All payrolls are different but by using this process we can make sure we are delivering what you want and that all systems and processes are working before we go live.
Dataplan's Implementation Team is here to make sure it happens
So you may be convinced about the benefits of outsourcing your payroll, but what about the detail of actually moving your payroll across to Dataplan, either from your own business or an existing outsourcing bureau?
Wherever your payroll is currently handled, the handover process does not need to be stressful and we have a step by step process to ensure that your payroll is transferred accurately and within your payroll deadlines.
Dedicated transfer team - we appoint a dedicated project team to help you through the process. Their job is to take you through each stage, manage all of your payroll needs and settle you in.
Liaise with provider – we will contact your existing provider to get the information we need.
Implementation Guide – we will issue you with an Implementation Guide which is a comprehensive document that will 'handhold' you through the transfer and implementation process. This guide also lets you know all the information we need to ensure a smooth transition.
Payroll accuracy – we often find that there are existing errors in payrolls when we take them over. At the initial stages of set-up our payroll team will be working with you to ensure the highest level of accuracy from the outset.
Speed of transfer – with 40 years of experience in managing payrolls, we have the experience to ensure the transfer and setting up of your first payroll is quick and efficient.
Handling queries – once you have made the decision to outsource your payroll, the last thing you want is to have to handle any queries from staff. Dataplan will help you answer employee queries.
Smoothing the transfer – in order to help you and your staff with the transition we can offer your staff a drop-in-day to go through any payroll issues they may have.
Honest pricing – the price we quote is the price you will pay. So no nasty surprises at year end.