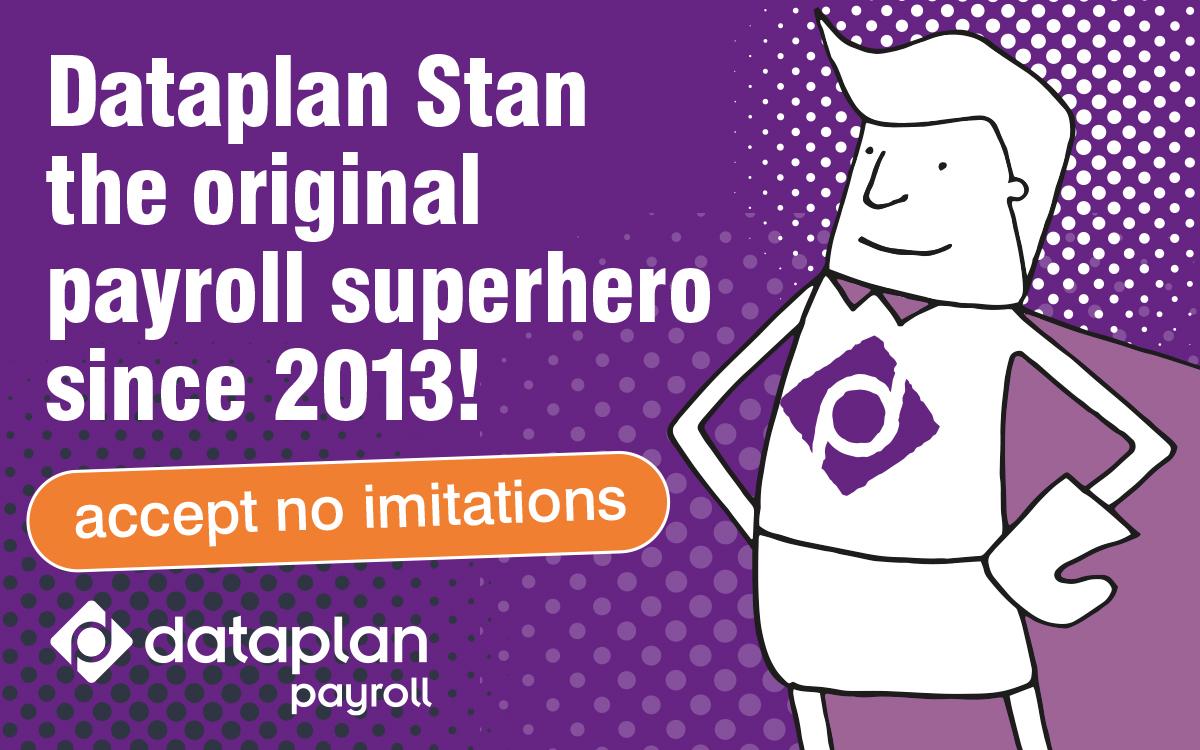 On the final day of National Payroll Week 2020 we decided to look at what it means to be a payroll hero. In our last post "NPW20 – What do our payroll heroes say about working through lockdown?" we heard from the team of heroes themselves.
As the original payroll heroes, at Dataplan we know a thing or two about what it means to deliver superior payroll services and build a team of superheroes.
Stan & the Gang
Brought to life in 2013, the original payroll heroes Stan and the gang are the embodiment of our payroll team's hero qualities. Our team of heroes live up to their name by:
Knowing their purpose within Dataplan and having clearly set goals

They get the job done, and they never give up no matter how big the challenge is as clearly demonstrated in recent times with the UK wide lockdown

They are the best at what they do, and they receive all of the best qualifications and training

They achieve amazing things, such as the huge volume of furlough claims that were processed through lockdown – a massive 2,500 claims to the value of £53,000,000

They are more powerful in teams, whether in the office or remotely working our teams have mastered the ability to work as part of an efficient team and communicate effectively

They are always pursuing perfection and constantly looking for feedback and suggestions for improvements
Our Values
At Dataplan, our heroes live by our values and culture of being brilliant. By following our six values below, we can cultivate payroll heroes to deliver a brilliant solution and service to our clients.
Innovate and think big – we challenge everything and look for ways to be ahead of the game

Stronger together – by sharing knowledge and working together we can achieve great things

Do whatever it takes – we empower people to find solutions not obstacles

Build long-term partnerships – trusting and honest relationships with our clients and suppliers sets us apart

Passionate about what we do – when we are passionate about what we do, everything has more value

Invest in the best – we want the best people being the very best they can be
What our clients have to say
As the saying goes 'the proof is in the pudding' and our heroes receive fantastic feedback from our clients on a regular basis, not just during lockdown.
Recently our clients have wanted to recognise our colleagues for the consistent delivery of fantastic service and adapting to the challenge of administering the Coronavirus Job Retention Scheme (CJRS) claims, one client said "I just want to say a big thank you for all you do in always administering our payroll so efficiently even during these strange times. The turn-round on the CJRS application was amazing – we received the payment from HMRC today!"
Our clients trust us to deliver stress free payroll no matter that, and another client said "many thanks to you and your team for still producing the 'goods' in these difficult circumstances."
Something that our clients have particularly appreciated during the UK lockdown, and something we ensure is always provided to our clients when things change, is translation of legislative changes. Our team worked hard to ensure that CJRS and all other COVID-19 related updates were delivered quickly and clearly to our clients to ensure that they were able to stay abreast of changes that would impact their business. This client said "I think 'hats off' to you guys, it must be impossible for you all at the moment especially with all of these surprising new schemes and you're keeping all of our businesses running as smoothly as possible with all of the legislation that goes with them…you deserve some serious awards!"
Dataplan are one of the UK's leading providers of specialist payroll and associated services.
From payroll outsourcing and pension service management to ePayslips and gender pay gap reporting; we have a solution for you and your business.