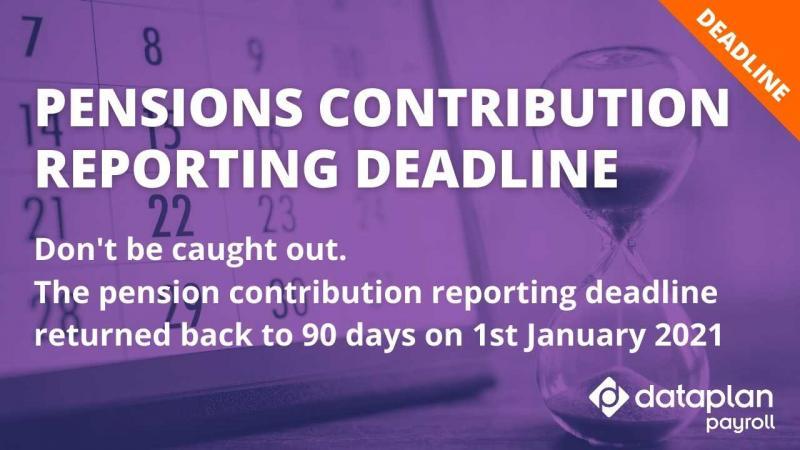 The COVID-19 pandemic has had far reaching implications for businesses and their staff, from lockdown measures to logistics. One area that Dataplan have noticed potential pinch points for clients is their payroll and pensions.
On our blog we have covered in detail the measures that have been put in place, and several updates to the Coronavirus Act 2020 including the most recent extension to the furlough scheme.
Whilst concessions were made and measures put in place to mitigate the stress of the pandemic in many instances, one area that has remained for the most part "business as usual" is pension schemes. During the pandemic, The Pensions Regulator (TPR) hasn't been overly flexible for pension schemes.
A small concession was made
Whilst for the most part things remained "normal", they did expand the reporting window for delayed contribution payments from 90 days after the due date to 150 days allowing an additional 60 days. This means that if pension payments have not been made within the 150 days of the due date, the pension scheme must report the employer to TPR and also inform all employees involved.
Although TPR expect employers to meet their auto enrolment duties which include paying correct contributions and paying them on time, they did want to lessen the burden on employers throughout the pandemic in some way.
The deadline has returned to 90 days
However, as the UK begins to exit lockdown with businesses reopening and plans to return to "normal" in Summer 2021 the deadline extension no longer applies. From 1st January 2021, TPR reverted back to the 90 day timeframe, therefore pension contributions will begin reporting contributions that are overdue by 90 days from mid-March.
Taking the stress out of pensions for our clients
Contributions need to be with the pension provider on the 22nd of the month following the pension deduction from payroll (therefore contributions deducted in April's pay must be paid to them by May 22nd).
If you feel that you are struggling meeting the deadlines or wish to remove the burden of uploading contributions, our dedicated pension specialist will be happy to help. They have experience with a large number of different pension providers
We also have a specialist Education pensions division, and an Innovation Team who continue to work closely with TPR to influence change in the sector.
We continue to process contributions and reporting on our clients behalf, staying abreast of deadline and legislative changes.
Dataplan are one of the UK's leading providers of specialist payroll and associated services.
From payroll outsourcing and pension service management to ePayslips and gender pay gap reporting; we have a solution for you and your business.