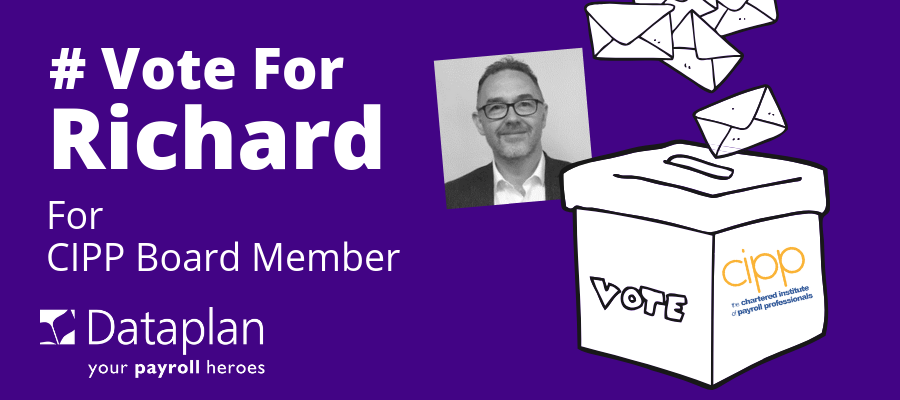 Our Chief Exec, Richard Rowell has been nominated to join the Board of Directors for the CIPP (Chartered Institute of Payroll Professionals).
The election is voted on by CIPP members and is an important decision that will help shape the future of payroll and rewards as a sector and as a career.
We may be biased but we think Richard would be an excellent choice!
Richard has grown Dataplan from a small department within a regional accountancy practice with 5 employees in 2005 to a CIPP award winning, 105 employees national business today. Being nominated is a great achievement, but we would love him to go all the way and for this he needs your support and votes.
What would make him a great CIPP Board Member? 
A commitment to giving back
Success and professionalism is a given at this level, but we feel that what will make a dynamic and relevant Board Member is someone who has the right attitude, not only to business, but also to 'giving something back'. And Richard has this in bucket-loads!
Throughout his career, firstly as an accountant and later in payroll, Richard has always committed his time and expertise to his local community; whether through chairing the local Chamber of Commerce, being a Director of a local Enterprise Agency or as a Trustee and Chair of Audit at the local FE/HE College.
This Board role will provide Richard with the opportunity to continue this on a national scale and share his commercial insight gained developing a payroll business.
A vision for the role of technology
One of the reasons behind Dataplan's growth and success has been Richard's conviction that technology has to be integral to an excellent service delivery.
This has seen the development of secure payroll platforms and apps that reflect the needs of today's businesses. In an era where employers and employers are looking for simplicity and integration, technology provides the key to providing this.
But not forgetting the people
Whilst technology is the enabler, Richard believes that people are the lifeblood of the industry and has shown his commitment to this through the development of his own staff and culture at Dataplan. He has brought over 100 people into the payroll profession and if he is successful in becoming a Board Member, he will be able to continue to drive the CIPP's ambition of making its charter body become synonymous for payroll as the ICAEW are for Accountancy.
In Richard's own words...