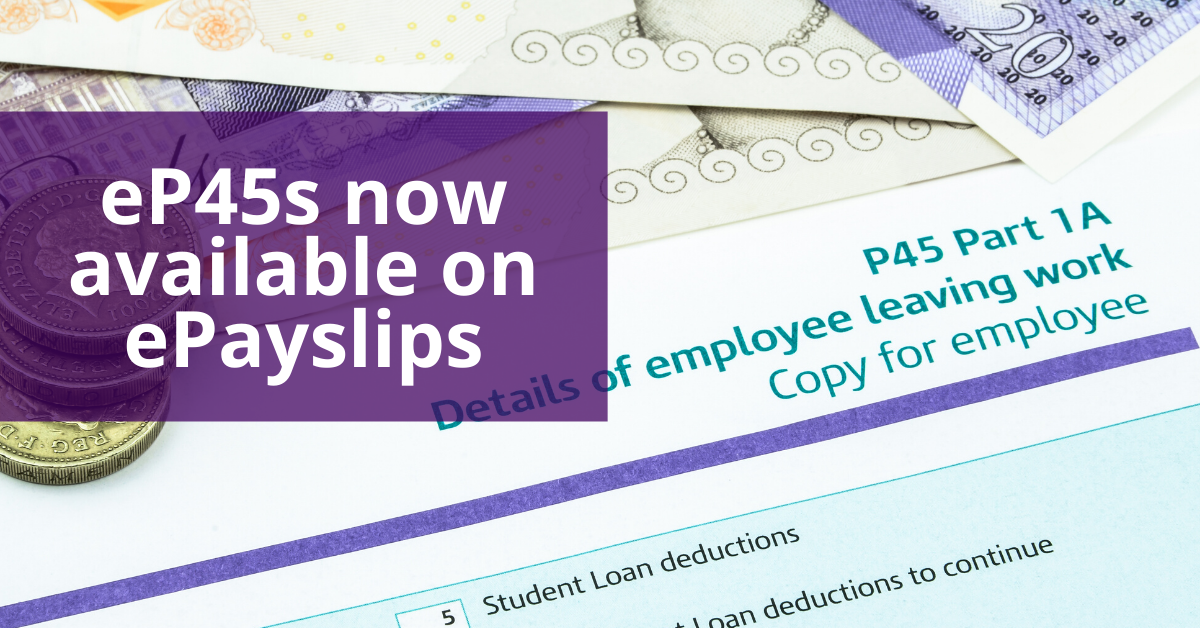 Electronic, or online payslips, have been around for a number of years. Our own ePayslips solution was launched in 2012 and our vision was always for it to be 'more than just an electronic payslip'.
Over time we have added functionality so that a more complete view of an employees pay information and documentation is available and, our latest launch, has seen the P45's moving onto the platform.
Earlier in the year we launched our eP60 service, which proved to be a godsend for many of our clients as P60 submissions were needed during lockdown, when many employees were either furloughed or working from home.
P45's, although not the same volume as payslips and P60s, were a hassle for employers to issue. Often they would have to be posted if the employee was not based at Head Office and this then relied on the postal service and had potential issues around security of the personal salary information they contained.
eP45s solves this problem.
Now, rather than the employer notifying us of a leaver and us printing out the P45 and posting to the employer, who then has to send to the employee, P45's are now issued and sent directly to the employee via our ePayslips platform, where they can access and download.
What's more, employees can access their pay information via the website or app (available for both IOS and Android).
At the same time a copy is uploaded to the employee record on our payroll platform so the employer can print off if they wish or download and save.
•    More efficient
•    Faster
•    No additional postage time or costs
•    Less administration
•    Employee has access to a digital copy that has less chance of getting lost or damaged
Helping us to reach our Carbon Positive Pledge
One of the additional benefits of moving away from paper-based items is the impact on our carbon footprint. eP45s help us to reduce the amount of paper we use and the carbon emissions generated through the postal service. We were sending over 300 packs of P45s every week, which for an ePayslip customers can now be delivered electronically.
If you would like to discuss moving your pay communications online, contact us on 03331 122700 or email projects@epayslips.co.uk
 
Find out more about ePayslips
We deliver a solution where employees can get access to and view current and past payslip information, benefit from intranet or self-service functionality with two way secure communications with their employer.