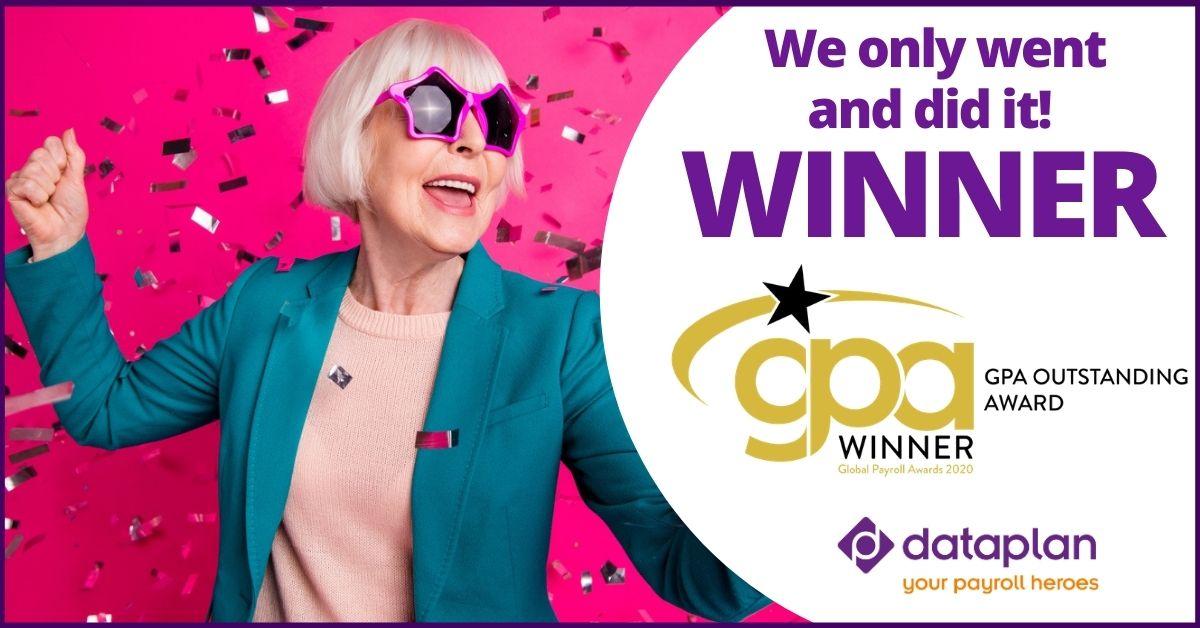 It is with great pride that Dataplan are able to announce our win of the "Outstanding Award" in the Global Payroll Awards 2020.
The prestigious awards are an annual event, organised by the Global Payroll Association, which in their words "celebrate and reward technical excellence, professional development and teamwork with the Global Payroll industry."
The awards celebrate the achievements of individuals and businesses within our industry, and in 2020 our skills and resilience really have been put to the test with the ongoing Coronavirus pandemic.
What is the GPA Outstanding Award?
The GPA Outstanding Award is a new award for 2020 that recognises a team who have demonstrated outstanding support and performance during the COVID-19 global pandemic.
The award was judged one a number of criteria including:
Client satisfaction during this time of crisis

Knowledge of constant changes in compliance and local legislation

A clear demonstration of the use of creativity, initiative and leadership during these uncertain times

Examples of the support and guidance provided to colleagues and the payroll profession as a whole
How Dataplan have provided outstanding support throughout the pandemic
At Dataplan our focus throughout these challenging times has been to provide support and consistency to our clients and colleagues. Early on, we took the decision to take on the claims for CJRS (Coronavirus Job Retention Scheme) which was the primary UK government support initiative.
As Richard Rowell, our CEO explained;
"We felt it was our moral duty to support our clients throughout this challenging period, so at the end of March we made the decision to not only handle the CJRS claims for our clients, but to do this at no extra cost, despite the fact that it would involve a great deal of extra work on our behalf.
It just didn't feel right to be benefitting from this situation when so many businesses were going to be facing really tough times.
8 months on and we have put in around an additional 4000 hours of work to process claims."
When the first lockdown hit in the UK, there was little time to ensure an efficient transition to remote working for our colleagues whilst maintaining open channels of communication internally and with our clients.  This involved all our teams pulling together, including IT, software development, operations and marketing.
Knowledge of changes in compliance and legislation has been crucial, as our clients rely on us to keep them informed of changes and how it affects them. With new rules around CJRS, benefits and SSP being released overnight our rigorous programme of client communications and internal briefings from our Head of Legislation and Compliance have been vital.  A recent satisfaction survey showed that our clients really appreciated these updates, with 88% of our clients rating the quality of our communications excellent or outstanding.
In addition, our teams have been adapting and innovating like never before. New technologies and systems have been utilised, such as Zoom and RocketChat, and our in-house Development Team have had to build entirely new processes to deal with challenges such as furlough calculations which simply did not exist before. All of this has had to be delivered efficiently, and accurately, to ensure no disruption to service.
What our clients say
Feedback from our clients has always been paramount to us, allowing us to recognise individuals who have gone above and beyond as well as things that we do particularly well, and also to highlight areas where clients may have additional needs.
The National lockdown has been a particularly scary time for businesses, and so we asked our clients about their experiences.
 "I just want to say a big thank you for all you do in always administering our payroll so efficiently even during these strange times. The turn-round on the CJRS scheme application was amazing – we received the payment from HMRC today! Thank you for all your help." Education client
A corporate client summed up the views of many about our handling of CJRS claims,
 "You dealt with it all and didn't charge for it - we couldn't have asked for more!"
Dataplan are proud to be on the frontline of UK payroll
Accepting the Award at last night's virtual event, Dataplan CEO, Richard Rowell stated;
"It has been a spectacular team effort over the last 8 months. COVID has affected everyone and we have just been pleased to be able to support businesses in the UK.
Our team have really 'pulled it out the bag'. We've put in thousands of extra hours in supporting businesses access the funding available from the UK Government.
It's been a huge burden but the teams have stuck at it because we know how important it is to get everyone paid. I couldn't be prouder and to be recognised on this global stage is an amazing achievement."
For a full list of winners of the Global Payroll Awards, visit
Dataplan are one of the UK's leading providers of specialist payroll and associated services.
From payroll outsourcing and pension service management to ePayslips and gender pay gap reporting; we have a solution for you and your business.