The bunting is up, the cake has been cut and we are delighted to celebrate 50 years in payroll this year.
We've got some great events to celebrate, but how did it all start...
At the beginning …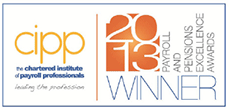 A one-man-band called Dataplan Computer Bureau started out in owner Tom Allen's front room. The big break for the business came in 1972 when Dataplan Computer Bureau started processing payrolls for dock staff at the port of Grimsby, North East Lincolnshire. The payroll outsourcing business changed hands again around 1974 and was sold to Orbit Computers which at that time was managed by John Lamb.
A move to Forester Boyd Accountants

In 1989 the business was acquired by Grimsby-based accountancy practice, Forrester Boyd, as an add-on payroll service they could provide to their client base. At this time Dataplan employed four people and was operating from Hainton Avenue in Grimsby. Later that year the payroll operation moved to Victoria Street, Grimsby before finally moving into Forrester Boyd's offices within 26 South Saint Mary's Gate in July 1996.
Richard Rowell took over the reins
In 1999 Richard Rowell, our current CEO, was a partner at Forrester Boyd and, in addition to his accountancy clients, was tasked with growing the payroll side of the business. Stewart Waddell, who had been with the business since 1995, was appointed Bureau Manager and from that point Dataplan started to grow rapidly.
Building our Education expertise
Following the success of Dataplan Payroll our education brand, Dataplan Education, was born in 2006 following the amalgamation of another bureau from London into the Dataplan business.
This created a new sector for Dataplan which serviced school payrolls in and around the London area. Dataplan Education now manages over 600 schools across the UK paying over 80,000 employees per month.
Growth and recognition
Stewart Waddell became Operations Director and, with Richard, continued to push the business forward including winning National Payroll awards in 2008 and 2013.
The success of Dataplan in securing their own clients outside of the local area, meant that staff numbers were increasing and the Forrester Boyd building was bursting at the seams. In 2013 an extension to the building gave some reprieve.
2013 also saw Adele Blackham join as Client Services Director, bringing a wealth of experience within the payroll world. Adele was instrumental in driving Dataplan forward with the introduction of auto enrolment.
New offices in Grimsby
Our continued growth meant we soon outgrew the Forrester Boyd premises and in 2015 we moved our 50 staff into new premises.
The mixture of flexibility in what Dataplan offer and a personal service is very attractive to our customers and we have seen strong growth in the last 10 years and now employ a team of over 110 staff at our Grimsby base. From humble beginnings Dataplan now have approximately 1800 customers across the UK.
What's new in our 50th Year?
2019 sees more changes including additional office space for our technical and creative teams plus Elaine Gibson joining the business as a Director of People.
We have also taken the opportunity of our 50th anniversary to rebrand the business and relaunch our Education website.
Our team of developers are continuing to focus on providing simple, user-friendly solutions that can take on some of the 'heavy lifting' of payroll processing. Plus there are exciting developments with our ePayslips product and some new sector-specific initiatives.
So, exciting times ahead for Dataplan. What started as a small payroll business, thanks to all the hard work of our payroll heroes, is now paying over £220 million in wages per month and has become a major employer within the Lincolnshire area.
We may be 50, but our story continues …