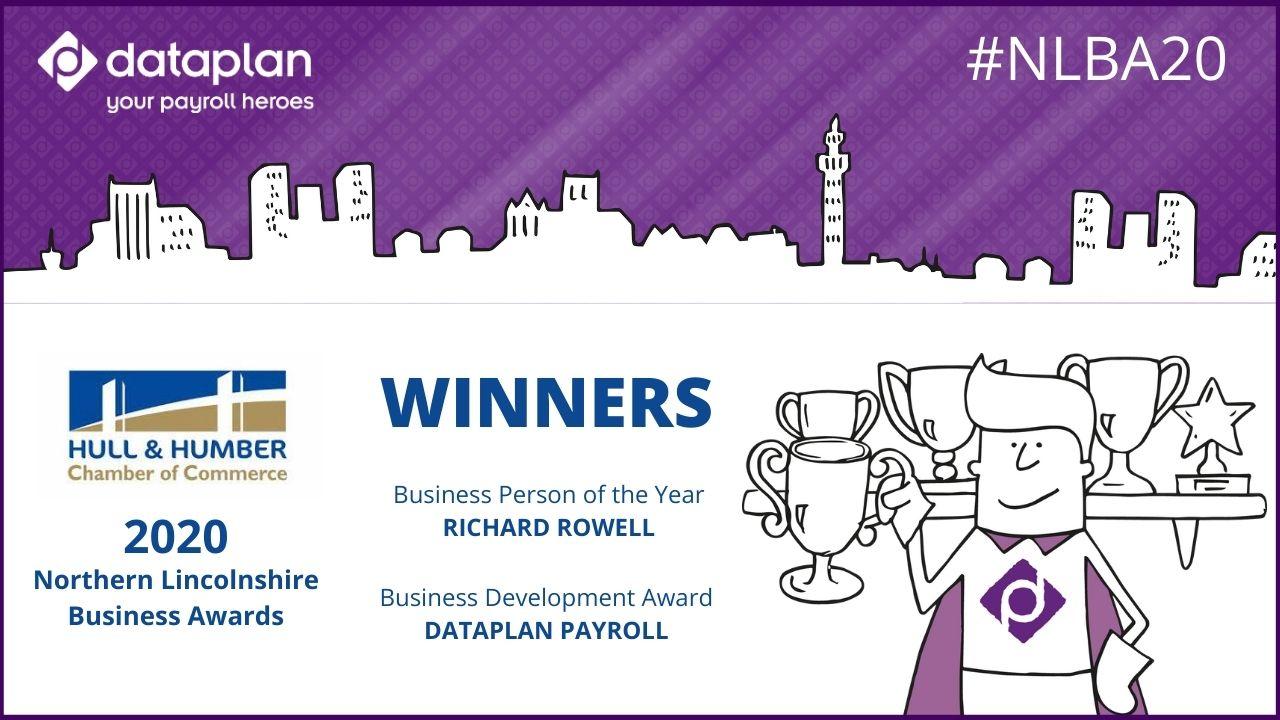 Last night Dataplan had the pleasure of attending the virtual Northern Lincolnshire Business Awards event. The awards are usually held at a private Black Tie Presentation Evening, but this year went online as a result of the lockdown measures which are still in force in the UK.
Hosts Richard Askam and locally born comedian Lloyd Griffith joined the nominees and sponsors, businesses of all backgrounds and sizes, for the event. The evening began with a canape demonstration from The Lincolnshire Kitchen, before moving on to the presentation of the awards, networking and a performance from Grimsby Institute students.
Dataplan are delighted to announce that we took home not one but two awards, in addition to sponsoring an award ourselves.
The Wilkin Chapman Business Person of the Year Award, CEO Richard Rowell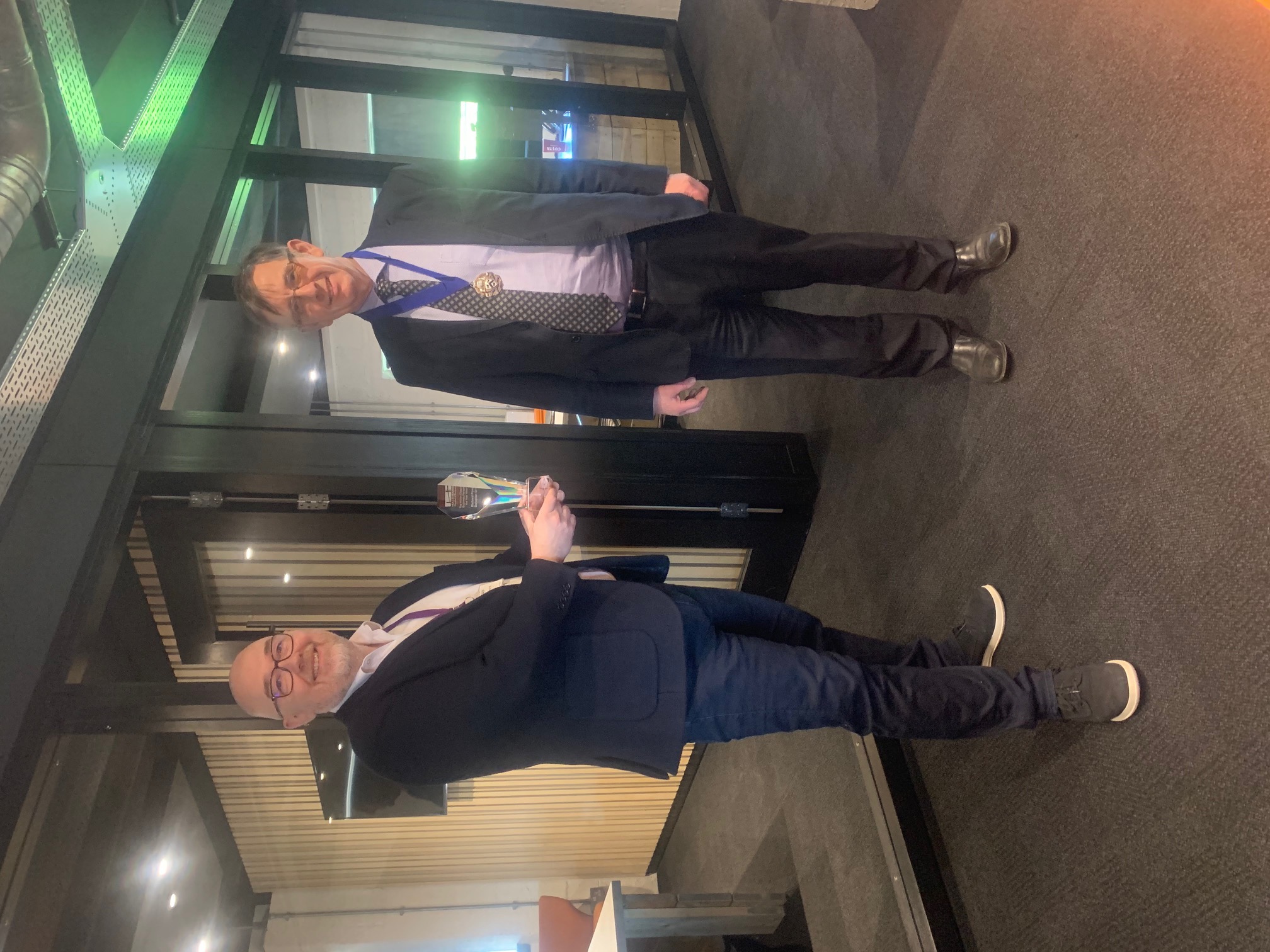 The first win of the evening was secured by our CEO, Richard Rowell, who was awarded the Business Person of the Year Award sponsored by local solicitors Wilkin Chapman LLP. The award was created to recognise "a person who stands out from the rest as a leader with excellent communicative skills and that 'X' factor that bring success at every level." The award looks at several criteria including:
Leadership – vision

Personality – drive and ambition

Communication – imagination
Richard has always been an ambitious and visionary leader, and we think that the course that he led Dataplan Group on through the pandemic is a true testament to this. Not only did the organisation successfully adapt to remote working and other changes forced by legislation, but it has continued to grow and see success over the last year. Recruitment is up and we have several new senior members of staff joining us, and in addition Richard was adamant about helping our clients to survive the COVID-19 crisis. One measure Richard pioneered was the processing of furlough claims at no charge to our clients.
We asked Richard for his thoughts
"A very successful night for Dataplan and me personally. I'm delighted to receive the Wilkin Chapman Business Person of the Year award but it wouldn't have been possible without an amazing team of dedicated professionals supporting Dataplan.  
The Business Growth award was the icing on the cake and shows how much progress Dataplan have made over recent years. With a team now standing at 140 people from across the region, and expansion plans to add a further 16 this year, we are rapidly becoming a major employer and one of the largest professional services businesses in the area."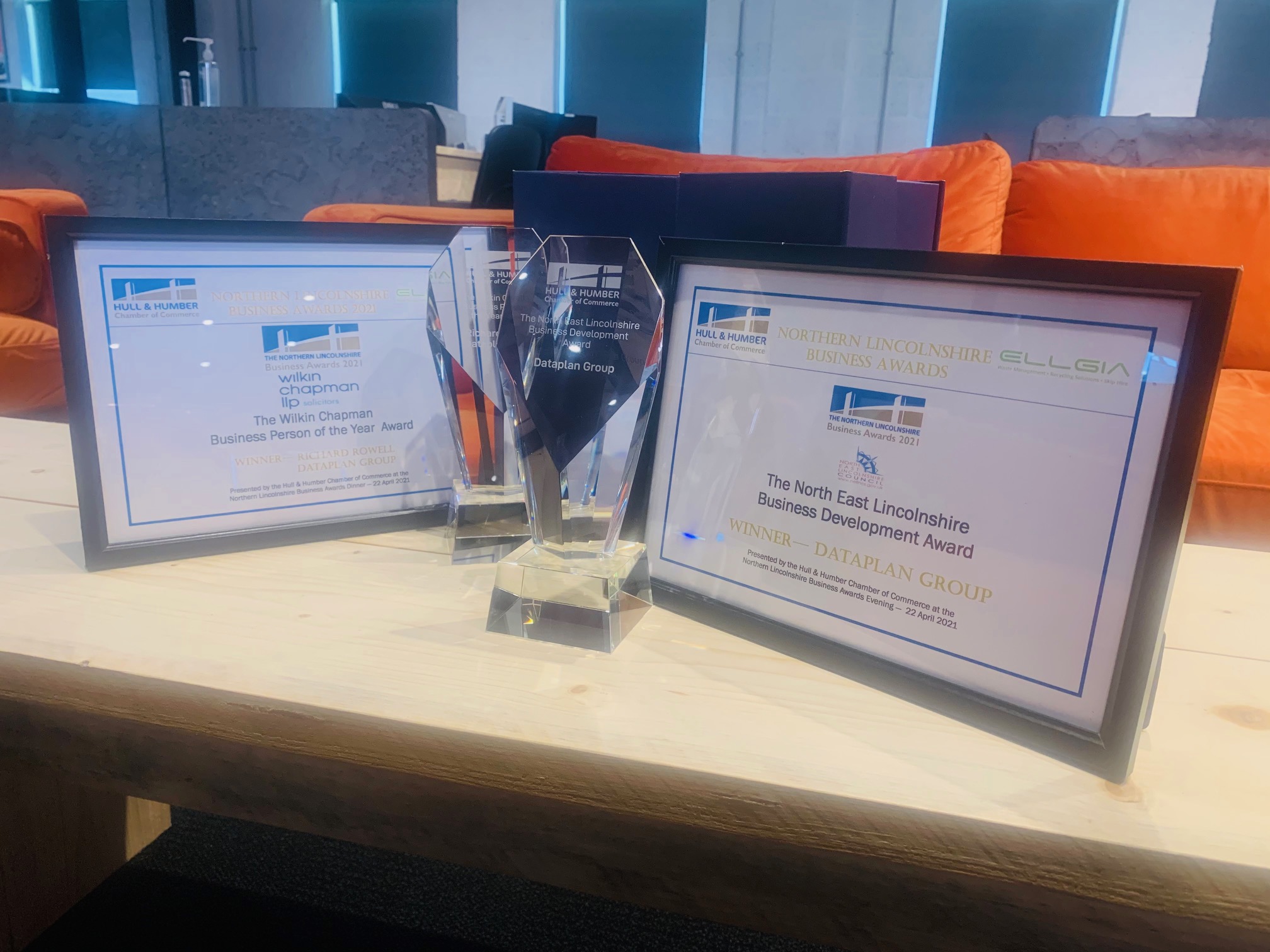 The North East Lincolnshire Business Development Award goes to Dataplan
Sponsored by the North Lincolnshire Council, this award was created to recognise "the contribution a business has made to the local economy." The award looks at several criteria including:
Financial investment in the business

Use of local supply chain

Long term sustainability

Community engagement and benefit

Employment training and benefits

New jobs created
Dataplan are delighted to have won this award, and have long had a commitment to supporting our local area. We are amongst the biggest recruiters in Grimsby and the Humber region and despite the pandemic our team has grown to over 140 employees.
Over the last year, and in partly as a response to the challenges of remote working, our training and onboarding programme has undergone a significant overhaul with the introduction of Dataplan Bootcamp. This comprehensive programme takes new starters from day one to month three of their employment at Dataplan and aims to get them familiarised with our organisation and their colleagues. From there they move on to the Dataplan Academy which takes them to year two of their employment, and the feedback we have received on this has been fantastic.
Much of our supply chain is local, with suppliers such as Systematic who deliver a huge range of print services, Office Friends who supply our office furniture and stationary, Peter Hogarth & Sons who provide us with cleaning supplies, Crosskills Florist who supply us with wonderful arrangements for our clients and staff and finally Waltham Kitchens who have provided outstanding catering for a range of occasions for us and sometimes at very short notice too!
In addition to using a local supply chain, much of our operation has been brought in-house through the use of local talent to recruit our own IT Development, Marketing and Customer Services Teams to name a few.
The Dataplan Payroll Business Growth Award, proudly awarded to Docks Beers
 This year, Dataplan decided to sponsor the Business Growth Award. With ambitious targets of our own, we wanted to recognise another local business that is making a big buzz.
The award was designed to recognise "a company that moves forward with enthusiasm, imagination and energy, with an eye on a sustainable future for itself." The award criteria included:
Growth in client base and contract values

Exploitation of niche markets

Growth in employment/turnover/profit

Imaginative use and development of financial and staff resources

Implementation of a progressive marketing plan

Innovative development of products and services for international markets
Docks Beers describe themselves as "a proudly independent brewery in Grimsby specialising in accessible craft beers." Set up by husband and wife team Kate and William Douglas, Docks Beers has quickly become a household name not just in Lincolnshire but Nationwide.
Their growth has been particularly impressive, with a quick response to changes in the market and challenges demonstrated clearly by the additions of their Taproom and their events, music and comedy venue; the Docks Academy.
A word from Elaine Gibson, our Director of People & Quality
"Like it has been for many businesses within the UK and beyond, it has been a very challenging year for our Dataplan family.  It was important for us to have the opportunity to sponsor an award to recognise a well deserving organisation for their contribution to growth and the economy and to to be nominated for a number of awards and to be awarded is a great motivator and testament to the commitment all have given over the last year. 
Our teams always strive to do their best; however, due to the pandemic, instead of slowing down, they have stepped up and shown amazing resilience and gone the extra mile throughout it all.  We could not have achieved our growth and success over the last year without Richards leadership.  He has steered the ship on the right path through the storm that is the pandemic and has achieved growth, enabled us to recruit a significant number of local people and still continue to provide a brilliant service for our clients.
I would like to add, that all of the nominees at last night's celebrations were so very deserving of an award;  however, there has to be ultimate winners and so on behalf of Dataplan, we congratulate them all."
Dataplan are one of the UK's leading providers of specialist payroll and associated services.
From payroll outsourcing and pension service management to ePayslips and gender pay gap reporting; we have a solution for you and your business.