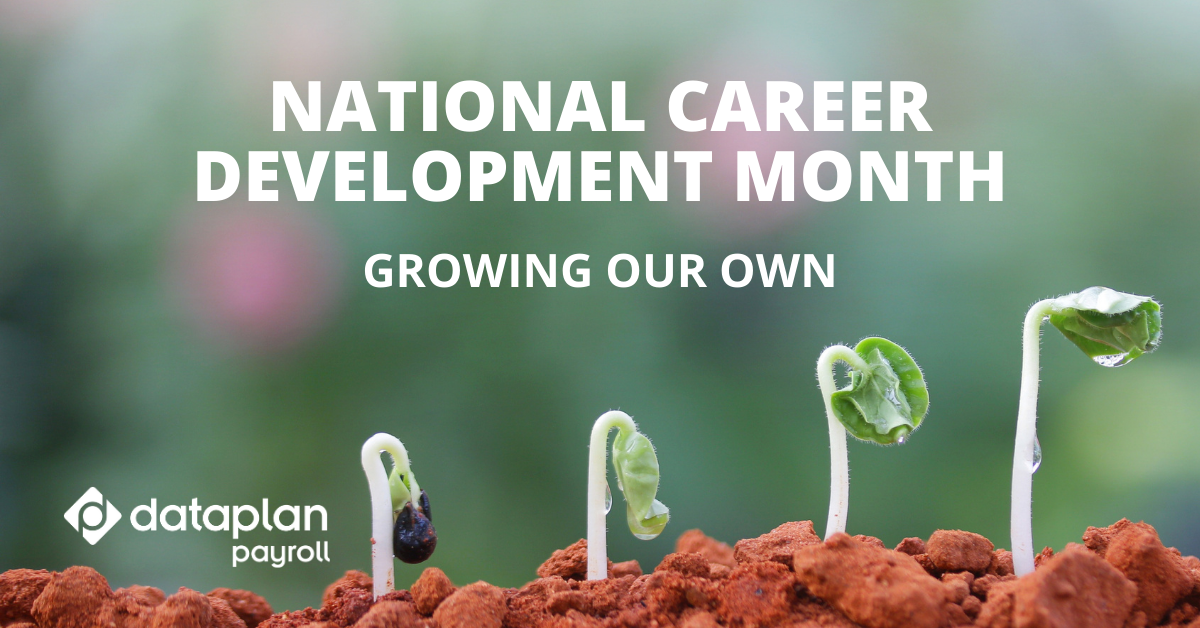 Dataplan have long had the people strategy of 'growing our own'. Not only does this widen the net to include people with transferrable skills and bright youngsters starting their career, but it also ensures continuity of staff as there are career progression opportunities within Dataplan.
In honour of National Career Development Month, we wanted to share an overview of some of the pathways and opportunities for development we have implemented at Dataplan and talked to our Director of People and Quality, Elaine Gibson about her payroll journey.  
"In my own experience, I fell into a payroll career, I wasn't looking for one! I was happily working for a firm of accountants and one day, I was asked to take on the client payrolls. That was it, I was hooked, and I gave up in my pursuit of becoming an accountant to focus on getting more into payroll.
'Why' you ask? Well, because it was more interesting to me! I could support the client's payroll service and see it through from setting up a PAYE scheme, setting up the payroll, and processing the full life cycle. Now that was satisfying. As I wasn't yet qualified, someone else signed off the accounts, my hard work had someone else's name put to it - not the case with payroll.
Working in a payroll environment attracts more deadlines and is such a varied role. Once you are at the stage of running that payslip report, there is such a sense of satisfaction. Almost as good as receiving my own payslip! If there is a business employing people, they need to be paid and will need the support of payroll professionals, either in-house or via a service provider such as Dataplan."
Over 30 years into her career, after gaining a varied range of skills, experience, formal education, and promotions, Elaine finds herself as Director of People and Quality at Dataplan and one of the few people with CIPP Chartered status, which is the highest qualification in the world of payroll.
How we develop our payroll heroes
Dataplan Payroll has been around since 1969, but it is the last decade where rapid growth has been seen as Dataplan have gone out into the wider UK market and made a name for themselves. None of this would have been possible without our brilliant team of payroll heroes and getting the right people and developing their skills and approach has been fundamental to this.
Our payroll teams need to hold the necessary level of skills and knowledge before they take on the full responsibility of calculating the payroll for a client. Payroll professionals at all levels need to keep up to date on current legislation which is ever-changing and there are penalties for noncompliance, policed by HMRC! Continuing Professional Development is very important.
We don't outsource any of our processing abroad or to satellite offices. All our teams are based in Grimsby (or in pandemic times are working from home). This can be a challenge to find people that already held a good range of payroll experience so we had to think big and decided to run a recruitment campaign to attract what we termed as 'Career Switchers', people who may not have direct payroll experience before but held a range of brilliant transferable skills. If we get the right type of people we knew our training and development programme could give them the skills they need.
The introduction of Boot Camp (months 1-3)
When an individual chooses to work for Dataplan, it's more than a job, it's a career. On the 1st September 2020, Dataplan launched a training programme for several recruits called 'Bootcamp', which included career switchers and experienced people. The aim is to provide a robust 3-month onboarding experience for all new starters, which helps individual people to feel part of the business from day 1. 
Part of the Bootcamp experience is learning on the job supported by an allocated buddy who reviews the recruits' work and helps fill in any knowledge gaps. Bootcamp is a mixture of theory and practical work and even though we have entered our second period of lockdown for our first cohort, we are looking forward to them graduating at the end of the month.
Dataplan Academy (month 4 to month 24)
Following graduation from Bootcamp, the employee moves to the next stage of their career path, "Dataplan Academy". The Academy aims to support the individual's career from month 4 to 2 years of service and will involve a work-based development programme:
•    Continual skills evaluation
•    Identify strengths and opportunities for the individual
•    If they do not already have the qualification they will undertake a nationally recognised, level 3 professional payroll qualification 
•    Conduct CPD to ensure knowledge currency via updates from our internal Head of Legislation, payroll systems changes, and internal workshops
Future development (2 years +)
At the end of the 2 years, the individual will graduate from the Dataplan Academy, and at this point, we will be able to assess further progression opportunities. Bootcamp to Academy will flush out key strengths and as we are a dynamic and growing business, as opportunities present, may progress in their payroll career or move into another area of the business such as Projects (client on-boarding) or Software Development. Over recent years we have witnessed some amazing success stories, people joining us knowing nothing about payroll and then working their way up into a senior role.
Even though we are in the middle of a pandemic, we can provide meaningful jobs for people and in January 2021, we will see the recruitment of another group of Bootcampers. Dataplan has doubled in size in the last 5 years through growing our client base, our range of services, and developing the infrastructure for technical support to ensure our service provision is robust.
Future Leaders
We have a Future Leader's programme that seeks to identify those individuals who seek and have the ability and aptitude to take on a more senior role. Succession planning is important so this not only ensures we can nurture talent, but it also ensures continuity in the high levels of service we provide our clients.
People are one of the fundamental pillars of Dataplan. Many businesses boast of providing a personal service, but the customer experience is often far from this expectation. We believe that it is only by having highly-skilled, motivated, and committed people can you deliver a personal service which is why our investment in the career development of our team has been such a priority.
 
Dataplan are one of the UK's leading providers of specialist payroll and associated services.
From payroll outsourcing and pension service management to ePayslips and gender pay gap reporting; we have a solution for you and your business.