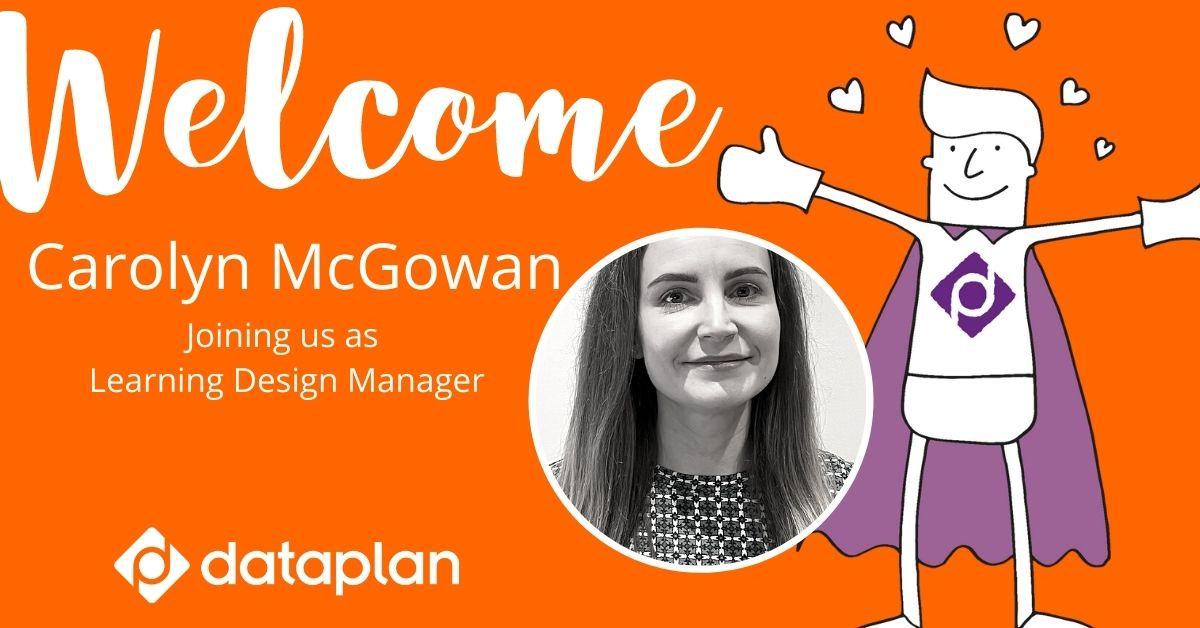 As we have previously mentioned, Dataplan has long had a strategy of growing our own talent in-house. Our culture and values are based heavily on recruiting the best people, providing comprehensive training, and progressing them through our organisation.
To help us to continue to deliver on this goal we are proud to announce that Carolyn McGowan has joined Dataplan as our Learning Design Manager. We sat down with Carolyn to get to grips with her career to date, how she found herself in training roles and what she will be bringing to our people development strategy at Dataplan.
Falling into payroll by chance
Like many others in the payroll industry, it was chance that brought Carolyn into the world of payroll. Having lived in Scotland for most of her life she relocated to Canterbury for a couple of years in the early 2000s, taking a reception job at a local company. They were looking for someone to take on some of the financial responsibilities so she started off dealing with the purchase ledger with the credit control function, when the in-house payroll colleague eventually left the role was offered to Carolyn to take a crack at and her payroll career began there.
Carolyn explained, "I have a very similar story to a lot of people who inherited a payroll rather than proactively seeking out a payroll career, but I loved it to be honest." She had some experience working with figures in previous roles before but never in payroll, so it was something very new and interesting. In fact, Carolyn enjoyed it so much that when she moved back to Scotland a few years later she proactively sought out a payroll career, and this is when she joined Contract Scotland.
Originally her role at Contract Scotland was only maternity cover, but she ended up working with them for a full ten and a half years. In her role, she was able to complete her CIPP Diploma in Payroll Management and became CIPP qualified quite early on in her career. She helped to support several members through their CIPP courses as well, and this is when she became aware of the CIPP's Payroll Quality Partnership (PQP). She worked to achieve this standard for Contract Scotland, liaising with the CIPP mentor who was then asked to head up the Online Learning Department and became responsible for the formation of the Payroll Technician Certificate (PTC). Having dealt with Carolyn closely through her work to achieve PQP status, he asked her if she would like to come on board as a Tutor for the PTC.
Taking on a career in training
Following this invite, Carolyn's transition into a training and development role began. Having helped to create content for the PTC, she has also been a Tutor for the PTC for over 8 years.
Tutoring involves splitting a monthly intake of students between pools of Tutors, meaning that there are new students on a rolling month-to-month basis. This means that Carolyn has had a hundred, if not more, students every year for the last 8 years. She explained, "It seems like a lot but with it being an online qualification it is self-learning." She added, "There is a 3-week cycle for every module with online learning and materials released so I will probably get the biggest volume of contacts from students when a module is released, so it's just about managing that flow of information and supporting them through their assessments."
Having worked with the CIPP for many years, Carolyn had previously worked with our Director of People and Quality Elaine Gibson in her previous role of Education Director at the CIPP. She had come into contact with Elaine as a Tutor, and also in terms of being able to have access to help design and form the content of the PTC.
Carolyn explained that she had kept in touch with Elaine, and in more recent conversations "she had indicated to me that Dataplan was looking at bringing some more formalised payroll training into the organisation with the set-up of our learning management system and looking to create content in-house." This was music to her ears and an opportunity she felt too good not to take, which is what brought her to us as our Learning Design Manager.
Talking about Dataplan she stated, "everything that it stands for in terms of putting its people first and wanting to promote people within the business, providing access to learning, seemed to be a very good match for me."
Building bespoke training at Dataplan
As our Learning Design Manager, Carolyn will be helping to design our internal online learning and development. The reason that we are looking to design and build our content in-house rather than outsourcing it externally, is to help them understand not only the generic payroll training and the basics but also the nuances of each specialist sector that we serve – something that we are well known for.
One of her first tasks is to design and write from scratch an Education payroll training course, which is one of the specialist sectors we operate in. She explained from the conversations I have had with Elaine, Nicola the Head of Education, and Leanne who is one of the Senior Team Managers in Education there are a lot of nuances on the Education side of things that perhaps are not with general payroll training" she continued "there is so much more involved in terms of the Green Book and the Burgundy Book that defines how schools pay their staff and there are a lot of nuances that aren't covered in the general payroll training that is on the market today."
In addition to this project, Carolyn will be able to work with our staff to understand what they need and then create something that supports that. We have clients in hospitality, charities, and other specialist sectors as well as large businesses that need specialist support which cannot be learned from your general 'nuts and bolts' payroll training on the market.
The training that Carolyn creates is intended to be dynamic, she will be working with a moving target with legislation constantly updating or being released. Practices in each sector may change as well, so she will have to ensure that the training delivered teaches staff how to apply their knowledge in that setting. She stated, "it's about how we can help support staff and employees to be able to react to these changes and to understand how that affects the payrolls that they have within their portfolios."
Dataplan are one of the UK's leading providers of specialist payroll and associated services.
From payroll outsourcing and pension service management to ePayslips and gender pay gap reporting; we have a solution for you and your business.